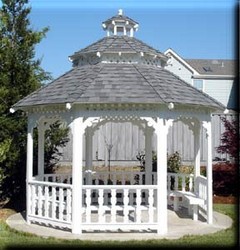 I've been contacted numerous times this last 5 years to provide our unique gazebos for the entertainment industry
Lake Piru, CA (PRWEB) May 4, 2008
A continuing trend in modern movie making and television is the inclusion of gazebos. You can often find gazebos as a well placed backdrop, or perhaps even used as a main focal point in commercials, or the big screen.
Jim Pena, owner of Gazebo Accents, the west coast leading retailer of custom wood and vinyl gazebos agrees "I've been contacted numerous times this last 5 years to provide our unique gazebos for the entertainment industry" says Pena "the art directors in charge of designing the set are looking for gazebos that are contemporary and unique, that's what we can provide for them."
Famous Gazebos
Gazebos are familiar structures in movies because of their versatility, architectural, and aesthetic value. One of the most famous gazebos in the movies is the one used in the 1965 film the Sound of Music, which was a tall structure enclosed in glass. Another famous gazebo in the movies is the one from the 1959 crime/comedy film, The Gazebo. The Montacute House in South Somerset village in the United Kingdoms well known for its solidly-built garden houses that can be considered as gazebos also. A more current movie that features a gazebo is A Cinderella Story starring Hillary Duff, that gazebo coincidentally was designed and built by Gazebo Accents.
The Many Uses of Gazebos
Because gazebos are generally open air structures, they are great places for enjoying the breeze and admiring the view of the garden or park. Gazebos provide shade against the harsh sun on hot days and shelter on rainy days. They serve as gathering places where people can get together to talk or have tea. In parks, gazebos are used as bandstands or mini stages for holding programs and events. Gazebos also have aesthetic value. They are architectural structures that can instantly add character to a garden or any backyard. Traditionally, gazebos were luxuries found only in houses and estates of rich families. Today they can be found in the backyards of average people.
To choose your custom gazebo design, visit our website where you'll find many of our popular rail patterns and options, or request a catalog for a more comprehensive look at what we offer.
These gazebos are handcrafted by highly trained craftsmen in either wood or vinyl. Prices starting at $1600.00 they are a great investment for your home or landscape project.
Call (951) 255-0795 for a free catalog or order one on-line at gazeboaccents.com. The catalog shows all of our one-of-a-kind styles and current prices.
###