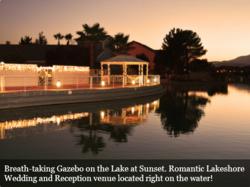 "Our Gazebo Simplicity package is Monday-Thursday only and always is going to sell out fast"
Las Vegas, NV (PRWEB) October 08, 2012
Always & Forever Weddings and Receptions is now offering a Gazebo Wedding Las Vegas Package called "Gazebo on the Lake" for couples planning their dream wedding ceremony and reception. The popular Las Vegas destination is located just 10 minutes off the strip and provides couples with the opportunity to have their ceremony on a beautiful lakeside dock with the water beneath their feet followed by an elegant indoor wedding reception featuring a one-of-a-kind six foot water wall and breath-taking view of the lake. The entire wedding and reception package starts at just $1,900.
Raquel Ryan, certified wedding coordinator and General Manager of Always & Forever stated, "Our Gazebo Simplicity package is Monday-Thursday only and always is going to sell out fast. She goes on to say, Couples love the fact that their wedding and reception is at the same venue. It makes it so much more convenient for them and their guests."
The Gazebo Package includes:
Wedding:

Use of Lakeshore Gazebo for 30 Minutes
Minister- Your Choice of Traditional or Civil Ceremony
Professional Photographer for both Ceremony and Reception!
$50 Credit Towards Print Package of Your Choice
6 Rose Hand-tied Bridal Bouquet with Fresh Roses
Groom's Rose Boutonniere
Traditional Music
Chairs are included for your Guests
Reception:

Location Use for 1 Hour
Tables, Chairs, and White Table Linens
Centerpiece Included (your choice of floating Gerber or floating Rose in Bubble Bowl)
Champagne Toast for Entire Party over 21
House Music or bring your own IPOD
Tray-passed Hors d'ouevres
Ryan goes on to say, "We have several different versions of the Gazebo package depending on the number of guests and added services couples require. There's really no better time of year to get married in Las Vegas and no better location than our Lakeside Gazebo venue."
Words do not do this locale justice. To see pictures of the venue or to find out more about the Gazebo wedding special visit http://lasvegaswedding4u.com/las-vegas-outdoor-weddings/gazebo-on-the-lake/ now.
About Always & Forever Weddings and Receptions
Always & Forever is operated by award-winning wedding consultant Raquel Ryan. The organization is known for offering spectacular Las Vegas weddings at elegant locations at affordable prices. Always and Forever has several different venues and wedding packages to fit any taste and budget. To visit their website go to http://lasvegaswedding4u.com/wedding-packages/.
All media inquiries should be directed to:
Contact Name: Raquel Ryan
Contact Phone: 702-318-5683
Email: lvweddingchapel(at)yahoo(dot)com
Website: http://lasvegaswedding4u.com/contact-us/
Address: 2902 Lake East Drive Las Vegas, NV 89117