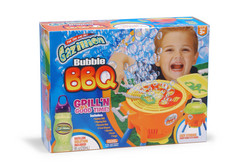 Van Nuys, CA (PRWEB) February 9, 2008
Funrise Toy Corporation is proud to announce that our Gazillion™ Bubble BBQ has been honored as a recipient of an iParenting Media Award! This award reinforces our commitment to creating the best and most respected bubble brand on the market today, the One and Only, Gazillion Bubbles. The Gazillion Bubble BBQ is a portable bubble barbeque that comes with all the necessary grilling accessories so you can grill up bubble fun anytime and become the ultimate bubble chef!
Funrise has elevated the world of bubbles with The One and Only, Gazillion® Bubbles - a line of bubble toys bursting with a one-of-a-kind bubble solution and great bubble blowing accessories. Bubbling over with success, Gazillion Bubbles is a 'top secret' solution that enables the bubbles to float higher, longer and reflect light around them. The result? Gazillions of colorful bubbles - more bubbles than any other solution on the market - and kids just can't get enough of them. Every bottle of Gazillion Bubbles solution provides hours of enchanting, colorful bubble play! Kids love blowing Gazillion Bubbles and parents do too since the non-toxic bubble solution doesn't stain their clothing or the furniture.
About Funrise
Founded in 1987, Funrise (http://www.funrise.com) is an adventurous innovator of superior toys and an industry leader in the manufacturing and distribution of the most popular children's toys. Simply put…we create fun! Funrise's core property portfolio includes Gazillion® Bubbles, ZOOOOS™, Nylint®, HEADBANGERS™, Home Arcade, Tub Town®, Play 'n Pretty® and Shelcore® with leading licensed power brands such as Tonka®, Disney©, Sesame Street©, Marvel©, NASCAR© and more, making our product offerings diverse and full of fun for kids of all ages! Funrise Toy Corporation is owned by Matrix Holdings Limited. Funrise U.S. headquarters are located in Van Nuys, CA, with offices in Hong Kong, United Kingdom, and France and with additional showrooms in New York City and Bentonville, AR. Funrise is operated by Arnie Rubin, vice chairman of Matrix and president of Funrise who also serves as Chairman of the Toy Industry Foundation (T.I.F.) and past Chair of the Toy Industry Association (T.I.A.). Funrise's success results from its commitment to quality manufacturing, progressive marketing and a values-based corporate culture.
Visit us at NY Toy Fair - Booth 1545
# # #