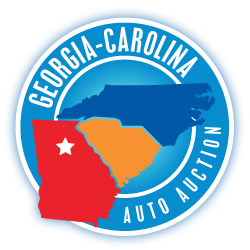 Our passion is for our customer and giving them the best possible auction experience, in lane or online.
Commerce, GA (PRWEB) April 10, 2013
Georgia-Carolina Auto Auction (GCAA) has strived to provide customers with a unique experience and superior service, making it one of the largest public auto auctions in the Southeast. From April 10-12, 2013, GCAA celebrated its 10-year anniversary by offering customers special deals at its 10-Year Anniversary Sale.
As an award-winning auction, GCAA has been able to provide customers with access to listing their products on multiple Internet distribution channels, such as OVE.com, OpenLane, and SmartAuction, setting them apart from many other auction venues.
"Our passion is for our customer and giving them the best possible auction experience, in lane or online," said Jeff Risner, owner of GCAA. "Our vested interest is in our customers and our ability to continuously adapt and change specific to the industry climate and our customers' needs. This has really set us apart over the years."
With a two-lane system, every buyer at GCAA that has come through their facility has had the opportunity to see every car being auctioned. This has made an even larger impact on the customer experience, one of the main keys to their success.
"The Rick Case Auto Group in Atlanta, Georgia, has been selling our trade-ins at Georgia-Carolina Auto Auction for 10 years," said Marc Levy of the Rick Case Auto Group, one of GCAA's many happy clients. "The friendly staff and the 'extra effort' we receive on a weekly basis has kept us coming back for 10 years. We are looking forward to selling 98+% of the cars we run at the 10th Anniversary Sale on Friday April 12th."
With GCAA, there is a history of successful, continuous relationships with many clients, such as Milton Martin Toyota.
"As a 10-year seller to the Georgia-Carolina Auto Auction, I know firsthand the excellence of this company," said Ricky Martin, co-owner of Milton Martin Toyota. "With many auction services available to dealers, Milton Martin Toyota trusts Georgia-Carolina with our wholesale vehicles because of their reputation, their consistency and the success we have found selling our vehicles there. We consider their owners and staff as personal friends of Milton Martin Toyota."
Anyone interested in being a part of the "Best Two-Lane Auction in the Southeast " at the GCAA as a buyer or seller can visit http://www.gcautoauction.com or contact a member of the friendly, knowledgeable staff at (877) 377-5300.
About Georgia-Carolina Auto Auction
Georgia-Carolina Auto Auction has been serving as a dealer and public auction in Georgia, as well as providing other auction services to North and South Carolina, since 2003. With many available auction services, both public and online, their emphasis on service and "the customer comes first" has made them into the "Best Two-Lane Auction in the Southeast."