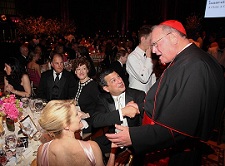 The global arts and culture charity endeavors to collect individual works of art.
New York, NYC (PRWEB) November 16, 2012
Mitch Vazquez, a renowned philanthropist in NYC, now donates to two regional causes of the city that are the global arts and culture and humanitarian aid. He is an ardent benefactor supporting a wide range of regional causes. Grown in a middle class family, he faces a lot of challenges of life but still he is grateful for many positive influences in his life.
The global arts and culture charity endeavors to collect individual works of art. The purpose of this cause is to acquire and administer art objects, including the organization of exhibitions and the promotion of loans to public exhibitions, as well as through the financial support of the acquisition and maintenance of works of art and the promotion of exhibition activities. This way it becomes possible to develop international relations on a cultural level.
The other one is the global disaster relief and humanitarian aid, a cause that provides disaster relief to stricken areas around the world. In times of epic disaster, daily struggle or civil conflict, it becomes necessary to restore health and saves lives by delivering donated medicines, medical supplies and humanitarian aid to people in need around the world and here at home. Mitchell Vazquez donates substantial gifts to this foundation and helps them in their response to emergency medical needs.
Mitchell Anthony Vazquez was born in 1968, the second of two sons in a middle-class family. He currently lives in New Canaan, Connecticut and owns the GCI Financial, a currency trading firm serving both US and international clients.
To know more visit http://www.mitchellvazquez.com