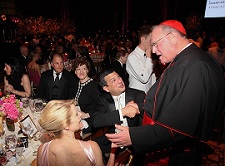 Financial support is only one aspect of how scores of caring people enrich the lives of inner-city students and help them to achieve their dreams
New York (PRWEB) October 09, 2012
Mitch Vazquez gave his support to the Inner-City Education philanthropy that helps remove the fundamental challenge of getting proper education in a safe and secure environment in New York City. He is a passionate benefactor and a GCI Trading specialist as well as supports a wide range of humanitarian causes in the city.
Financial support is only one aspect of how scores of caring people enrich the lives of inner-city students and help them to achieve their dreams. The expertise and generous time offered by benefactors like Mitchell Vazquez to their students and schools through different volunteer programs is an invaluable asset to ICSF. His support has helped students and their families overcome enormous odds and break the cycle of poverty through education.
Mitchell Anthony Vazquez is the founder of Global Capital Investment, a New York based currency trading firm serving both US and international clients. He grew up in the Seattle area of Washington State and attended public school where he excelled academically and athletically.
To know more about the other philanthropies he supports log on to http://www.mitchellvazquez.com