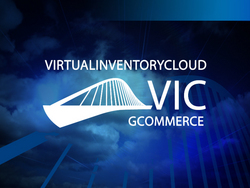 Wow, this is a serious competitive advantage. Who wouldn't want access to their supplier's inventory availability? There is a huge cost and economic advantage of getting multiple buyers and sellers to participate across multiple market segments that gives the ability to seamlessly scale a platform to match demand without incurring capital outlays. It's a no-brainer!
Des Moines, IA (Vocus) May 6, 2010
The $300 billion automotive aftermarket parts industry is undergoing a transformation through the introduction of an innovative cloud-based solution created by GCommerce with support from Microsoft Corp. A new market technology solution called the Virtual Inventory Cloud (VIC™) provides inventory visibility and efficiency for drop ship special orders between distributors/retailers and manufacturers/suppliers in the automotive aftermarket. GCommerce has emerged as the leading provider of a B2B solution for the automotive aftermarket by providing Software as a Service (SaaS) using elements of cloud-based technologies to automate procurement and purchasing for national retailers, wholesalers, program groups and their suppliers.
"VIC™ enables hundreds of distributors and retailers in the automotive aftermarket to improve margins and increase customer loyalty through better visibility into parts availability from suppliers. The solution opens the door to connect into capabilities that only the largest companies could afford through heavy IT investments," said Rick Main, executive vice president, Sales & Marketing, GCommerce. "This is representative of a new transformative wave of business innovation that extends capabilities beyond the four walls of an enterprise, enabled through adoption of cloud platforms. The cloud will exponentially accelerate GCommerce's ability to serve the automotive aftermarket market and others like it."
The automotive aftermarket has had difficulty in implementing a real-time inventory inquiry and procurement model for drop ship special orders. With thousands of commercial buyers, sellers and brands, the disparate procurement and fulfillment mechanisms and protocols are numerous that are either automated or manual. The automotive aftermarket business averages hundreds of millions of transactions traded between B2B partners per year. A large portion of the revenue dollars in this market is for replenishment orders, but the drop ship special orders account for more than 80% of the transaction volume and cost associated in the supply chain. VIC™ promises to help reduce these costs, while driving up special order revenue and net profitability of the transactions. Key components of the drop ship order business include procurement, inventory management, fulfillment and most importantly, speed of response and transaction.
"Customers are increasingly turning to cloud-based solutions for the innovation needed in their supply chains because the centralized access to processes and information is well suited to the multi-enterprise nature of today's supply chains," said Dennis Gaughan, vice president, AMR Research.
Windows Azure and Microsoft SQL Azure enable VIC to be a more efficient trading system capable of handling tens of millions of transactions per month for automotive part suppliers. GCommerce's VIC implementation with support from Microsoft allows suppliers to create a large-scale virtual data warehouse that reduces dependency on paper-based processes and leverages a technology-based automation system that empowers people. This platform has potential to transform distribution supply chain transactions and management across numerous industries.
"As today's announcement demonstrates, Microsoft SQL Azure and Windows Azure enable mission-critical enterprise processes that deliver agile, cloud–based solutions for our partners," said Rahul Auradkar, director of the Cloud Services Team in the Business Platforms Division at Microsoft. "The automotive aftermarket industry faces a large-scale, complex challenge in implementing business processes like the real-time inventory and procurement process for drop ship special orders. Microsoft SQL Azure and Windows Azure deliver the agility, efficiency and scalability that GCommerce needs to meet this challenge and transform the automotive aftermarket supply chain."
About GCommerce
GCommerce, founded in 2000, is a leading provider of Software-as-a-Service (SaaS) technology solutions designed to streamline distribution supply chain operations. Their connectivity solutions facilitate real-time, effective information sharing between incompatible business systems and technologies, enabling firms to improve revenue, operational efficiencies, and profitability. For more information, contact GCommerce at (515) 288-5850 or info(at)gcommerceinc(dot)com.
About Cloud Computing
Wikipedia says that cloud computing is "a general concept that incorporates software as a service (SaaS), Web 2.0 and other recent, well-known technology trends, in which the common theme is reliance on the Internet for satisfying the computing needs of the users."
Since data warehousing typically involves large data volumes, scalability is key. The cloud provides a virtually unlimited pool of computing power, storage and memory. However, these resources are delivered in discrete modules. Each node consists of "standard" units of processing power, storage space and memory. While the amounts may vary (by service provider, price point, etc.) and they may increase over time, the cloud's pool of resources is a large grid of interchangeable, industry-standard computing resources. Achieving true scalability requires a database architecture that can fully maximize this pool of resources.
QUOTE SHEET
Herb Godschalk, co-president of Fisher Auto Parts, Inc., founding member of the Federated Auto Parts program distribution group, addressed the impact of this new technology, "the Virtual Inventory Cloud (VIC™) will enable Fisher Auto Parts to streamline our special order process and allow us to increase customer service and sales revenue on opportunities that otherwise would end up as lost sales. We can also capitalize on the investment in our existing real-time Electronic Data Interchange (EDI) solution that is an integral part of the VIC™ solution, as we will be able to send the orders through our existing pipe and receive the necessary return documents to track the special orders. This is a big win for both Fisher and our suppliers."
Bob Campanelli, director of purchasing, Transamerican Auto Parts illustrated the value of VIC, "In the economical climate we are in today, WD's are working with a tighter inventory budgets than they were just a few short years ago. The days of "Loading up the shelves" are long gone and now are working with "Just in time" levels. Working for one of the nation's largest distributors of Truck, Jeep and SUV products, we believe G Commerce along with their partnership with Microsoft and development of VIC, has found the answer to this problem. This process will allow a buyer to see available inventory from their suppliers, therefore making a better buying decision which will translate into a better fill rates and greater sales all the way down to the end user. This has been a long time coming and we are looking forward to its implementation."
Pete Weber, managing partner of Integrated Supply Network, Inc. (ISN), praised VIC™,
"Wow, this is a serious competitive advantage. Who wouldn't want access to their supplier's inventory availability? There is a huge cost and economic advantage of getting multiple buyers and sellers to participate across multiple market segments that gives the ability to seamlessly scale a platform to match demand without incurring capital outlays. It's a no-brainer!"
Tim Martin, vice president of K&N Engineering, stated, "We are always looking for ways to improve special order processes for our automotive parts resellers. K&N sells over 5,000 different filtration products and most cannot be stocked by a local distributor, so they are considered special order items. This new cloud technology provides a modern web-based software framework for integration of product availability information into an ordering system. It will provide faster customer service with fewer errors, and allows a reseller to offer a broader range of products without excessive inventory investment. This initiative will provide better inventory visibility at the point-of-sale, which will help to grow sales."
Jon Bielfeldt, national accounts manager, Lisle Tool addressed the benefit of VIC™ for the automotive aftermarket:"Our industry will realize increased sales and market share by serving customer needs at the point of sale rather than losing the customer on parts due to unavailability. VIC™ will reduce the costs of transactions for us as we'll no longer need to use custom expensive EDI connections."
###