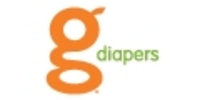 the best deal on diapers and more
Portland, OR (PRWEB) April 19, 2010
Beginning today, Diapers.com will offer the best value in green and reusable cloth diapers online. gDiapers (http://www.gdiapers.com), the only 100% certified biodegradable diaper, is being featured at Diapers.com at an amazing introductory price, making it easy and affordable to get started with an eco-friendly diaper choice. gDiapers offers the best of cloth and disposable diapering in one earth-friendly option.
Diapers.com is featuring:
gDiapers everyday g's 6-pack on sale for just $59.99
Start up or stock up. Three great orange and three genuine vanilla bean little gPants. gDiapers everyday g's little gPants can be used with gDiapers biodegradable gRefills or gCloth diaper inserts and (sold separately) are far less expensive than other cloth diaper covers.
gDiapers sweet bundle on sale for $89.99 (6-pack of gPants and 160-ct refills)
Includes everyday g's 6-pack of little gPants plus a case of 100% biodegradable gRefills
The case of biodegradable gRefills comes in two sizes, small (160 count) and medium/large (128 count). Small gRefills fit small little gPants, medium/large gRefills fit both the medium and large little gPants.
gCloth inserts also come in two sizes, small and medium/large, both with 6 cloth diaper inserts per pack. gCloth inserts are designed specifically to fit our soft little gPants so they don't require any folding. They provide the same trim fit as our biodegradable gRefills without giving up the absorbency.
About gDiapers
Founders Jason and Kimberley Graham-Nye are committed to developing products that are gentle to babies and safe for the environment. The gDiapers system consists of reusable, little gPants and either absorbent gCloth inserts or 100% biodegradable gRefills. gDiapers are Cradle-to-Cradle gold certified (http://www.mbdc.com), which means that everything that goes into making a 100% biodegradable refill is reabsorbed by the planet in a natural or helpful way. For more information, visit http://www.gdiapers.com.
About Diapers.com
Diapers.com is the largest online baby care specialty site in the United States, offering everything moms and dads need for their babies, including diapers, wipes, formula, baby food, shampoo, strollers and more. Diapers.com makes life easier for parents by offering the lowest prices online, along with the convenience of fast, free next-day shipping and a level of customer service that is shockingly great. Thanks to an ever-expanding brigade of more than 500,000 happy moms and dads who cheerfully spread the word on where to find "the best deal on diapers and more," Diapers.com is the world's fastest growing e-commerce destination. For more information, go to http://www.diapers.com.
###