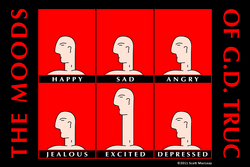 "Nobody knows just how hard I worked to make THE MOODS OF G.D. TRUC video the major work it is! So much sacrifice, but the result was worth it." G.D. TRUC
(PRWEB) March 29, 2011
Created in Paris in the early 80's, G.D. TRUC's initial career was short-lived because of the busy exhibition schedule of his creator Scott Macleay who at the time of TRUCs creation was a Rockefeller Foundation Artist in Residence at the American Center for Artists in Paris. His exhibition schedule and lecturing workload limited the initial commercialization of the TRUC character to a small series of hand silk-screened t-shirts in 1982. Some of the original drawings can be seen on MacLeay's website: http://www.scottmacleay.com
Now TRUC (pronounced "troouk" as in French) has re-emerged larger than life on the Web. He has his own blog: G.D. TRUC – THE MAN – THE BLOG (http://www.gdtruc.blogspot.com ), a new Twitter account and on-line apparel and accessory stores (http://www.zazzle.com/gdtruc). The stores a full of all sorts of original designs all devoted to the man himself. He plans to expand the number of stores to include stores in French and Portuguese. There is apparently no stopping G.D. TRUC now.
There is no doubt about it, he is crazier, sexier, funnier and more laughable than ever. This wry old Frenchman fancies himself a real ladies man and considers himself an accomplished artist, international tycoon and political pundit, all rolled into one. His newest ambition is to be a Hollywood star and has just starred in his first video "THE MOODS OF G.D. TRUC" (http://www.youtube.com/watch?v=49faAW0FxZ0).
The apparently calm, but ever-so-stressed and expressionless TRUC hates to laugh at himself, is never satisfied and is a chronic complainer. He actually thinks he does have a sense of humor, but others tend to laugh at him rather than with him. TRUC doesn't speak, he pontificates, he gesticulates,...as he himself likes to say "I TRUCIFY reality!" He has a little book of his favorite saying entitled "The quotes of Chairman TRUC" and is forever bombarding those around him with a steady flow of his homespun wisdom.
He has no friends, no family, belongs to no organizations or clubs and received relatively little formal education, having dropped out of school at 12. In spite of all of this, he considers himself a scholar, a master of the social sciences and struggles along confident of finding new followers every day. The guy has to seen to be believed. So…check him out – the one, the only G.D. TRUC.
###