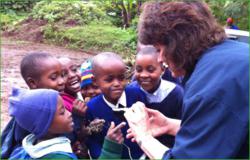 The best way to raise money is to get participants to reach out to their social networks for an online donation that can be made with a credit card
Montreal, Qc. (PRWEB) November 21, 2012
MyEvent.com recently developed a custom fundraising website for GE's Executive Development Course (EDC). The custom website empowered the participants in the EDC program to raise more than $100,000 for a village in Tanzania through their personal fundraising pages.
The participants were part of an immersive and productive business experience to study power solutions in Sub Saharan Africa.
In exchange for their role in educating the GE team, EDC initiated a fundraising campaign to give back to these communities. Instead of a gala or other fundraising event that would cost a lot of money and require a lot of time, GE decided to do what a lot of companies are doing these days for their corporate social responsibility (CSR) initiatives. The EDC team asked MyEvent.com to make a website branded for GE that told the whole Ng'iresi village story. The website also came with personal and team fundraising pages for the participants in the program.
The executives then sent out a personal message to their social networks with an explanation of what they were doing and requested their support via a link to their personal fundraising page. According to Rob Hirscheimer, president of MyEvent.com this is the most successful way of fundraising today in the age of social networks and online fundraising. "The best way to raise money is to get participants to reach out to their social and business networks for an online donation that can be made with a credit card."
Tricia Chorlog an HR consultant with EDGE Performance Acceleration sourced out MyEvent.com to create the GEGives.com website. "I was extremely happy with the whole experience with MyEvent.com. They turned this project around from start to finish in one week and their customer support was excellent. Thanks to MyEvent.com we were able to reach our goal of raising more than $100,000 and in very little time."
Chorlog explains what the money was used for. "The Ng'iresi village near Arusha, TZ had significant needs for school supplies, books, athletic equipment, a library and solar powered lighting in the school and village to eliminate the use of kerosene. GE partnered with Red Sweater Project, Save the Children, Alive & Kicking, Books for Africa and Global Cycle Solutions (through Echoing Green) to meet those needs. Additional partnerships with Save The Children and Kiva benefited Tanzania through GE Gives donations and the organization's mission.
According to Hirscheimer the beauty of the MyEvent.com software as a service is that although they can make custom websites for the likes of GE they also have a do it yourself fundraising website builder that is so affordable any organization or small business can use it no matter how small they are.
About MyEvent.com:
MyEvent.com has been offering robust and affordable easy to use DIY and custom event websites to individuals, corporations and nonprofit organizations since 2002. All websites come with the ability to accept payment for tickets, donations and personal fundraising without a merchant account. For more information, visit MyEvent.com or call 1-877-769-3836.
About the GE Leadership program:
The Leadership Course is GE's premier personal and professional development experience for GE's most senior leaders. The 3-week immersive leadership journey is designed to help leaders solve the world's toughest challenges and shape GE through their discoveries.