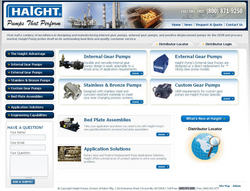 gear within a gear design
Evansville, WI (PRWEB) August 21, 2009
Haight Pump, a Division of Baker Mfg, the company that set the industry-standard in manufacturing gear pumps and custom gear pumps, launched its new website in 2009. The new website features Haight Pump's wide variety of internal gear pumps, external gear pumps, and bronze and stainless steel gear pumps. The new website features more concise navigation and website usability and functionality, such as a distributor locator and the ability to translate the website into multiple languages to create a tremendous user experience.
For over seventy years, Haight Pump has been providing various segments of industry with rugged and dependable gear pump manufacturing. These pumps are built on the proven reliability of the "gear within a gear design", which Haight Pump pioneered. This innovative technique results in a stronger pump with fewer parts and performs exceptionally well at standard motor speeds. Haight Pump's universal design series offers unparallel flexibility to engineer custom pumps from standard components eliminating excessive cost and lead-time.
Haight Pump gear pumps are used in a variety of applications, providing superior reliability for clean lubricating liquids, high viscosity applications, corrosive liquids, abrasive liquids, toxic and hazardous material liquids, and extreme temperature liquids.
About Haight Pump:
Haight Pump has provided over half a century of excellence in designing and manufacturing internal gear pumps, external gear pumps, and positive displacement pumps for the OEM and process market. Haight Pump prides itself on its outstanding lead time and quality customer service.
About Top Floor Technologies:
Top Floor Technologies delivers strategic Internet marketing solutions focused on generating more leads and sales for their clients. A results-focused agency that provides website development, search engine marketing, web analytics, and conversion improvement. Top Floor Technologies developed the new website for Haight Pump using the latest standards in web design, usability, and content management systems. Top Floor Technologies is located at 2425 S. 162nd Street, New Berlin, WI 53151. For more information, please visit us at: http://www.topfloortech.com
# # #