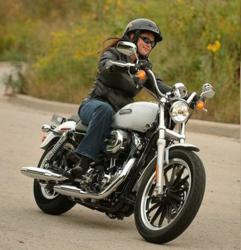 Life is hard, wear a helmet.
(PRWEB) April 03, 2013
The weather is changing, Illinois Department of Transportation (IDOT) is pushing more pressure on motorcycle riders to gear up and ride smart. As the riding season is getting closer, bikers start seeing more signs like "Watch out for Bikers" or "Gear Up - Ride Smart". This marketing tactic has been used in the past, but it will never succeed to be 100% effective during the riding season. IDOT is doing their best to spread the words about bikers hitting the roads, and sun shining on their chrome.
Just in Illinois alone more than 15 percent motorcycle deaths were motorcycle riders. Want to avoid being that 15% this year? Gear up with the proper gear from http://www.ebikerleather.com. eBikerLeather has been providing biker gear for more than 15 years. They have all riding gear for the safety on the road. Remember that motorcycle helmets have to be Department of Transportation (DOT) approved.