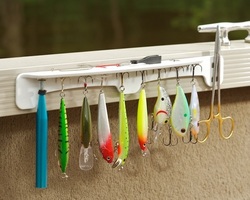 Inventor of the product, John Gesik mentioned "We did some soft launches at local fishing shows and without a recognized brand or product, we sold out of every show – that told us we were on to something."
Grand Rapids, MI (PRWEB) July 8, 2010
This patent pending fishing lure holder and tackle organizer called Gear Grabbar is unlike any other current lure holder/tool holder on the market. This innovative product incorporates powerful magnets that are strategically placed to maximize utility and provide a super strong lure holding platform that will continue to hold as the boat is moving at any speed. The magnetic lure attachment is effortless, and provides a safe release to prevent hook injuries and lost/dropped lures.
Gear grabbar takes organization and convenience to an entirely new level by offering you the ultimate in versatility and safety for your lures and tools. It can support all types of lures and fishing tools such as jig heads, topwater, spinnerbaits, crankbaits, worm hooks, spoons, pliers, scissors, hook sharpener, knife or line snips which will support your fishing for just about whatever species you want. Gear Grabbar is the perfect addition for any size boat and for any type of fishing lure.
Inventor of the product, John Gesik mentioned "We did some soft launches at local fishing shows and without a recognized brand or product, we sold out of every show - that told us we were on to something." Gesik continued, "Based on that early success, we are planning to roll it out on a national scale and create some additional products and product options."
The first step in that roll out, is debuting their product later this month in Las Vegas at the American Sportfishing Association (ASA) industry only iCast show July 14-16 where they are a candidate for the best new product in the accessories category. They will be in Booth #2051 for that show. They are also investigating various retail relationships and distribution channels to make Gear Grabbar more widely available.
This revolutionary improvement for any fisherman is worth investigating further. What are some of the benefits?

Powerful magnets hold lures and tools securely in place
Change lures faster, maximize fishing time
Super easy lure attachment and release
Safe lure release minimizes hook injuries
No fumbling around in a tackle box
Also stores a knife, scissors, or pliers for easy access
Grasp lure body instead of the hook to attach to the product
Perfect organization station for your boat
Most of the fishermen mentioned they had tried a similar product that did not hold up or broke. They were excited about the durability and magnetic features our product has to offer. An early adopter of the product, fisherman Brian Erler from Michigan gave this testimonial, "Not only did it increase our time for fishing by making additional lures available with easy access, but it held them in place at 42 miles per hour in three foot waves - that was impressive."
If you are interested in more information, they will be at the iCast show, or would like to buy the product, you can visit http://www.magneticmarineproducts.com or contact Jennifer Gesik at Jennifer@magneticmarineproducts.com.
About Magnetic Marine Products - Based in Grand Rapids, Michigan, Magnetic Marine Products was founded by John Gesik, inventor of the Gear Grabbar, which was multiple prototypes and three years in the making. Michigan is an area rich with some of the best fishing in the Midwest and John's passion for fishing drove him to want to develop a line of products to improve the fishing experience. The philosophy at Magnetic Marine Products is to go beyond the norm and create new innovative products with fishermen and their families in mind. There are several more products in various stages of development.
###