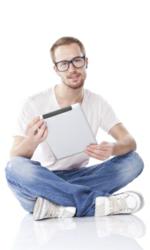 Women literally had zero interest in me until I changed my strategy.
Los Angeles, California (PRWEB) November 06, 2012
Self-proclaimed geeks now have a better way to meet tech loving women according to a new website. The Geek's Guide to Dating has launched its new service to help guys that love technology to meet women that love it too. Creating the perfect match between two self-proclaimed geeks is the goal of this new geek dating website. Along with the launch of this website, a brand new book is available that details the steps that geeks can take to find the first love of their life. The book can be accessed at this section of the Geek's Guide to Dating website online.
Gary Martins is a geek dating coach and has turned his faults into helping other men make the kind of connections that they desire with beautiful women. Gary's love life was going nowhere as a tech loving gamer until he became fed up with the lack of success that he achieved in dating women.
"I've made every mistake in the book – twice," said Gary, author and creator of the Geek's Guide to Dating. "Women literally had zero interest in me until I changed my strategy," added Martins.
One of the strategies that are taught on this website and in subsequent books is how guys can converse with women to find a common ground. According to Gary, most men bomb trying to hold a conversation that women can take interest in and it turns women off. Because most people don't get taught how to date, some people can go through life making the same mistakes that are costing them personal happiness.
Asking women out can still be difficult for some guys that have not mastered the art of personal introductions. According to Gary's website, the simple task of asking for a woman's phone number is enough to scare most men away from conversing with a woman. One of the techniques that are taught to geeks is how to get a woman's phone number every time without getting rejected. According to Gary, this technique works well and most men do not know it exists.
For geeks that want additional training, Gary Martins offers additional books that are available as PDF downloads to help guys become master daters. These additional titles are "The 28 Rules of Cool" and "How to Not Screw Up Your New Relationship" all available now online.
About Geek's Guide to Dating
The Geek's Guide to Dating is a new website that is designed to bring to together male and female geeks to create the perfect relationship. This information that is presented on this website is one element that geeks can use to learn how to improve their success at dating. The Geek's Guide to Dating website features helpful blogs, accessible training videos and e-book downloads that give all geeks the knowledge they need to succeed. While the mainstream dating industry leaves out most self-professed geeks, the Geek's Guide to Dating picks up the slack in this dating niche to help these individuals to find love.