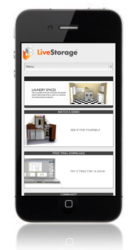 If a company isn't addressing the mobile market, they are quickly falling behind their competition
Seattle, WA (PRWEB) May 23, 2013
Geekly Group, LLC, a full service provider of digital media managed service solutions, proudly announced today the re-launch of CHI-LLC.com and LiveStorage.CHI-LLC.com, both incorporating fully responsive web designs that accomodate today's mobile technology. CHI-LLC is the technology company behind Herman Miller's Z-Axis®, and the industry leading LiveStorage™, 3D interactive design software for closet, garage, storage, home offices, laundry and more.
Responsive web design is a grid-based approach to website design that serves the many screen sizes available to today's technology. The grid-based design provides an optimal viewing experience to all devices while reducing resizing and scrolling without the need for a specialized mobile application for handheld devices and smartphones. A single website can now serve all visitors regardless of their device's screen resolution.
"Mobile devices have outpaced the PC in today's computing landscape." noted Dan Dreifort, Geekly Group's SEO geek. "If a company isn't addressing the mobile market, they are quickly falling behind their competition. We've witnessed higher bounce rates across mobile devices, which is when a visitor arrives and quickly leaves your website, when a company's website is not properly optimized for mobile viewing. Creating a web experience that addresses mobile technology in today's mobile world just makes good business sense."
"Geekly Group has been very useful to help us keep pace with today's web technology and trends. Upgrading to a responsive design made sense to ensure we aren't alienating our mobile users," remarked Beth Scully, Vice President of Sales at CHI-LLC. "We are happy to have such a great group of geeks helping us out!"
Combined with updating CHI-LLC's websites to fully responsive designs, Geekly Group migrated their websites' core to the latest build of Drupal, an open-source content management system. Drupal serves close to 3% of the world's websites, with approximately 10,000 new websites being added each quarter according to recent Drupal usage statistics. Geekly Group specializes in Drupal development, and is currently building several websites using the popular open-source platform.
When asked about Drupal, Trent Livingston, the CEO of Geekly Group was happy to provide perspective. "We are very impressed with Drupal's security and proven development core. We've found that other content management systems have been somewhat prone to security holes," Mr. Livingston commented. "While it may seem trivial, security of even the smallest website is of the utmost concern to us. The web is quickly becoming the primary face for most businesses, and even the shortest period of downtime can affect customer trust. With a worldwide botnet attack underway against the WordPress CMS, you can never be too careful."
Businesses interested in learning more about web trends and responsive web design are encouraged to visit Geekly Group's blog and website at http://geeklygroup.com to keep abreast of the ever-changing digital media landscape.
About CHI-LLC
CHI-LLC (Computer Human Interaction, LLC) is a Seattle-based software technology company founded in 1990. They develop leading 3D configuration and visualization software that streamlines the sales process for their customers. CHI-LLC's 3D applications for office furniture, closet, garage, and storage space planning invigorate the customer experience by immersing clients in their space with stunning 3D visuals, sophisticated yet simple-to-use configuration capabilities, and accurate parts lists.
About Geekly Group, LLC
Organized in 2010, Geekly Group, LLC is a full service provider of digital media managed service solutions. Its data driven digital media consortium is made up of highly talented, full-time and contract technology professionals that span multiple spectrums of digital media. Geekly Group provides affordable managed service plans for social media management, web development, data analytics and graphic design to its clients. The firm's depth of experience and extensive technical network, paired with its intellectual property, is what creates a direct link between a company's digital media efforts and increased sales.