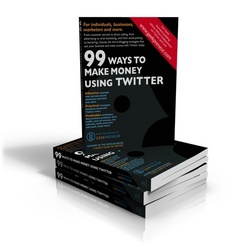 99 Ways to Make Money Using Twitter
New York (Vocus) July 23, 2009
Geekpreneur, the entrepreneurial blog for geeks, today announced the release of "99 Ways to Make Money Using Twitter," a practical, case-study-rich guide to turning Twitter's popularity to your financial advantage. The 376-page softcover book, a follow-up to Geekpreneur's successful "A Geek's Guide to Twitter," is now available at Amazon or by visiting the Geekpreneur Web site at http://www.geekpreneur.com/twitter-business-book.
Loaded with insider tips and proven strategies, "99 Ways to Make Money Using Twitter" demonstrates how savvy Twitter users have successfully leveraged microblogging to build brands, win customers, earn extra income and more. The Twitter marketing book's case studies range from entrepreneurs who are making money directly through Twitter-based businesses, to established companies that are using Twitter to burnish their brands, build communities and improve customer service.
The book rates each of the "99 Ways" it outlines by level of difficulty, skills required and income potential, to help readers identify the methods that would work best for them. While every method won't be suitable for every reader, this Twitter book is the first to offer a comprehensive understanding of the full breadth of financial opportunities made possible by Twitter.
Experienced entrepreneurs and social media consultants praise Geekpreneur's Twitter business book --
"Monetizing efforts on the social web can be an extremely daunting task, and in many cases Twitter is one of the hardest places to convert conversation into dollars. Whether you want to integrate Twitter into your company's marketing plan or simply earn extra income, '99 Ways to Make Money Using Twitter' is for you. A hat tip to the editors of Geekpreneur for providing real-world examples and ideas on how to accomplish return on investment with Twitter." -- Geoff Livingston, Senior Vice President / Social Media, CRT/tanaka and Author, Now Is Gone
"For those who aren't careful, Twitter can be ridden with empty promises and misinformation as everyone tries to take advantage of its opportunities. With '99 Ways to Make Money Using Twitter,' Geekpreneur breaks out a comprehensive approach and detailed instructions on how to tap into this powerful utility." -- Kevin Dugan, award-winning marketing executive and creator of the blogs Strategic Public Relations and The Bad Pitch Blog
"'99 Ways to Make Money Using Twitter' is a must-have guide for entrepreneurs who want to capitalize on the Twitter phenomenon. I've shared a number of its suggestions with the startups I counsel. In fact, I intend to apply some of its advice in my own businesses." -- Alexander Muse, Co-Founder, SpringStage.com Startup Network
Authored by the editors of Geekpreneur and published by New Media Entertainment, Ltd., "99 Ways to Make Money Using Twitter" retails for $34.95 and is available via Amazon.
NOTE TO MEDIA AND BLOGGERS: If you are interested in a review copy of "99 Ways to Make Money Using Twitter," please contact Cathy Baradell at (972) 235-3439 or via e-mail.
About Geekpreneur
Geekpreneur is the entrepreneurial blog for geeks, written by a team of veteran Web designers, programmers, and social media evangelists. It is published by New York City-based New Media Entertainment, Ltd. Check out Geekpreneur at http://www.geekpreneur.com.
Contact:
Cathy Baradell
(972) 235-3439
# # #