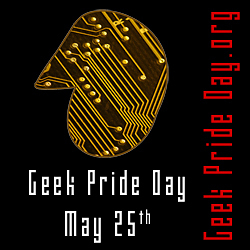 You know a Geek when you see one.
Beverly Hills, CA (PRWEB) May 21, 2008
GeekPrideDay.org and the Federation of Geeks salute Geek Pride Day - observed on May 25th, the day George Lucas's original Star Wars premiered in 1977.
Star Wars heralded the start of the Modern Geek Era - but not the First Era of Geek. Geek History - Great Moments in Geekdom is chronicled at the site, spanning from Early Geek, 32K years ago, when the First Geek was discovered painting on the wall of a cave in Lascaux, France. Geeks have been at the forefront of human progress ever since.
The Geek Hall of Fame honors History's Greatest Geeks. Inductees into the Pantheon of Geeks currently include:

Leonardo Da Vinci - Renaissance Tekkie,
Miguel de Cervantes - for his signature creation "Don Quixote", the first fantasy Role Play Game fanatic in a literary paen to geek obsession (from Spain, where Geek Pride Day was first celebrated),
Benjamin Franklin - the American geek whose curiosity and quest for practical discovery and application spanned experimenting with lightning, a kite, and a key, to writing Version 1.0 of a country (specifically the United States).
Marie Curie -in true geek style she eschewed the scientific mainstream (at the time, Roentgen's X-Rays, which were then the latest killer app) and in the process discovered not one but two elements, won not one but two Nobel prizes, and made it abundantly clear (in case there was any question) that geekdom is gender neutral.
Nominations are open for further inductees to the pantheon of famous Geeks - the Geek Hall of Fame - and may be submitted as set out on site.
Federation of Geeks membership is available in the following SIG's (Special Interest Groups):

Computer Geek SIG
Video Gaming Geek SIG
Math Geek SIG
Science Fiction SIG
Comic Book Geek SIG
Fantasy and RPG SIG
Manga and Anime SIG
Other Geeks SIGs, and New Geeks SIGS - user-defined.
Membership in the world Federation of Geeks is free.
The organization is patterned after the mindset of Douglas Adams. It is the ANSWER, and throughout the geek universe is eternally in search of the Question.
What is a Geek?
For those interested in answering the question of "What is a Geek" while standing on one foot, there is a simple answer: "You know a Geek when you see one."
Slightly more definitively, geeks are generally characterized by:
1. Dreaming dreams which are not necessarily impossible, but certainly beyond the mainstream.
2. An abiding interest in technology, even including the technology for invisible things like information, to the point of voraciousness, but not necessarily in any specific technology - because technology is a moving target. You can be pretty sure that the first person chasing a round thing down a hill, while everyone else was roaring with laughter, was a geek.
3. Knowledge in depth which is not simply academic or abstract, but which can be applied in a practical manner to specific situations.
4. Activity related to the area of interest that extends well beyond a 'passing interest', and reaches a degree a non-sympathetic observer might term clinically obsessive.
Geek Myths - Busted
Geeks have come to be associated, generally by un-geeks, with social ineptness. While geeks can be socially inept, so can everyone else, but without the redeeming intellect characteristic of geeks. Social maladroitness is not a defining characteristic of geeks, anymore than jocks are characterized by lack of intellect (although there is probably fertile ground for a few Phd dissertations somewhere in between, a few pieces of earmark legislation, and some major UNESCO grants).
Similarly, although geeks are usually involved with and bound up in the introduction of any given new technology, and have probably been so since the dawn of history, and slightly before, geeks are not defined for very long by any one specific technology.
Geeks built the world. They are by nature optimists. They do not view any given glass as half-empty or half-full, but generally, in such a situation, as a mismatch between container and contents.
Geeks are currently rebuilding the world, and awaiting the release of open source to complete the task.
Geek Pride Day is a time to recognize the accomplishments of geeks.
In the GeekPrideDay.org Geek Shop, Geek Pride Day tshirts, posters and mugs, and Geek Hall of Fame Geek T-shirts, Geek posters, and Geek mugs, along with Federation of Geeks t shirts, posters and mugs.
"The Federation of Geeks reminds you to be nice to geeks. Your next boss may be one."
###