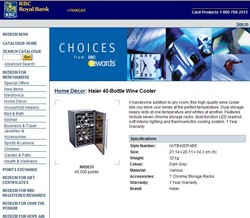 Having complete, relevant product/SKU description copy is critical to driving online sales and overall channel growth
Toronto, Canada (PRWEB) October 13, 2009
Experienced retailers know that the longer a customer spends pondering the merchandise, the greater the chance of a sale. That's even more important when customers are surfing the Web to find the best deal in tough economic times. GeekSpeak(imc) is helping online retailers strike the right cord with it's new offering, ensuring product descriptions turn browsers into buyers.
"Sharp product descriptions with tight, informative copy that speaks directly to the customer are critical to making online sales," says Isaac Wanzama, General Manager and Founder of GeekSpeak(imc), a full-service copywriting and marketing firm that specializes in helping clients attract and keep customers. "Content really is king when it comes to selling your products on the Web. Those descriptions have to grab the customer's interest and hold it so they can make a solid buying decision."
Future Now's 2007 Retail Customer Experience Study showed that most buyers are influenced by product copy when deciding whether to purchase: 79% of them "rarely" or "never" purchase a product without a complete description, and most people simply abandon when faced with a lack of information about what they want to buy. Time-starved and recession-hit shoppers have only become more demanding since then.
Provide a Good Customer Experience:
Product descriptions also must be localized for the customers most likely to visit. An automotive site that speaks of tyres, the car's boot, and its bonnet could bring visitors outside of Great Britain up short. If the site is selling to the US automotive marketplace, terms need to be familiar to the potential buyers. "GeekSpeak(imc) has a mature process with a seasoned team of writers that provide product copy in multiple languages for varying audiences in order to deliver a transparent user experience," says Wanzama. "Customers want to feel as if they are dealing with someone around the corner, and not halfway around the world. If consumers have to translate, adapt and interpret information on their own, they'll simply go elsewhere."
Build Trust:
Great product copy firmly sets an online retailer apart from its competitors, and helps connect to their customers in a way that bridges the distances common on the internet. "Product descriptions we did for the Beijing Olympics merchandise helped boost HBC's (The Bay) sales of that product line," says Wanzama. "Compelling language that talked about textures, colours, wearability, got visitors excited about the Olympics and use convinced customers that their dollars would be well spent and that they would get good value with a branded product they'd be proud to own."
Turn Ordinary Features into Compelling Benefits:
Clothing e-tailer Maurices.com found Geekspeak's copy to be just the ticket for their fall product line. "When you write about beautiful clothing and make it sound attractive online, you close that gap between customer and company. You help them connect. Customers make better choices because they get a true picture of the product, and that's a win for everyone," Wanzama notes. "It helps take out the guesswork for the customer. They know exactly what they're buying, and with that confidence come increased sales."
Customer loyalty and rewards programs also get a boost from smart copywriting. RBC's Loyalty Program online rewards catalog includes product copy by Geekspeak that helps customers decide how to spend their accumulated points, in English and Canadian French.
Geekspeak's technical expertise includes the ability to provide copy in a format (XML, HTML, etc.) for easy output to the web. Their experienced project managers and support staff provide superior vendor co-ordination and ensure timely delivery and updating of copy for massive sites with a myriad of SKUs.
"Having complete, relevant product/SKU description copy is critical to driving online sales and overall channel growth," says Wanzama. "Good product copywriting is an investment that pays off for any business. It makes sound economic sense, even when times are tough. Especially when times are tough."
About GeekSpeak(imc)
Founded in 2004, GeekSpeak(imc)-Intelligent Marketing Communication- is a full-service provider of marketing services, based in Toronto, Canada. Employing a handpicked team of expert marketers, copywriters, translators and designers, we engage your audience and communicate the passion of your brand locally and worldwide. Client work includes General Motors, Mattel, RBC, Best Buy, Staples, Chevron, Maurices, HBC and more. For more information about GeekSpeak(imc), please visit http://www.thinkgeekspeak.com or call at 1.416.619.5349 http://www.twitter.com/geekspeakIMC
GeekSpeak(imc)
416-619-5349
###