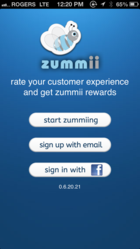 Zummii is great because it allows customers to give immediate feedback about their experience with their smartphones and gives them great rewards.
Toronto (PRWEB) February 20, 2013
GeekSpeak[commerce] a provider of integrated content services is proud to announce zummii, (http://www.zummii.com), a free mobile app for Android and Apple devices.
The brainchild of GeekSpeak[commerce] founder and General Manager, Isaac Wanzama, zummii eliminates the need for online surveys, provides customer contact and experience data in near real time, and gives customers a reason for sharing their experiences. "Our retail clients value customer feedback so they can improve their service delivery, and they're delighted to reward customers for that information," says Wanzama. "With zummii, a business is more likely to get details about quality, speed of service, and satisfaction levels because customers can input it with just a few taps on their smartphone."
zummii asks the right questions about a customer's experience, whether it's at a store, bank, restaurant, or hotel: Was the environment clean? Were the prices competitive? How satisfied were you with your purchase? and more. The questions for each category were developed in consultation with Ipsos Reid, the well-known survey-based market research and loyalty development firm. Each survey is short, around 12 questions, making it quick for customers to provide opinions. Only 15 to 20 seconds compared to 25 to 40 minutes it takes to complete an online customer survey.
It's also convenient -- customers can immediately access the app on their smartphones or tablets, and don't need to log on to a company's website to comment.
Zummii rewards customers for submitting feedback with coupons for deep discounts on merchandise, special deals, bonus items, gift cards and free services like shipping or gift wrapping. Customers choose the reward they prefer from a range of stores, not just the one they've commented on, and their coupon is emailed to them or stored on their mobile device. These valuable incentives invite participation, so the likelihood of a customer completing the survey is high.
For businesses, it's a convenient way to gather customer experience data, from contact details to information about a particular shopping experience. In addition to rating qualities like speed of checkout or cleanliness of the store, customers can add their own comments. "Retailers can quickly see areas where their service delivery has fallen short, or truly delighted the customer," says Wanzama. "If you don't know what's broken, you can't fix it. With zummii, businesses not only get customer complaints quickly, they learn what keeps customers coming back. That's extremely valuable intelligence, and they can act on it."
zummii's easy-to-use mobile interface invites customers to provide feedback that can inspire a retailer to change how it does business. Since the company can access near real time data, it can also react quickly and analyze trends, potentially making adjustments based on daily feedback. Ideal for events like multi-day conferences or big sales, zummii taps into what participants are thinking.
"In a competitive marketplace, consumers have the power to choose where to spend their money," adds Wanzama. "Naturally they are going to gravitate to businesses where they have a rewarding customer experience, feel appreciated and get great value for their dollar."
What's more, with links to Facebook, Twitter and other social platforms zummii lets customers share their experiences through social media.
Plus, the acquisition cost per customer of that information is much lower than with traditional methods of paper-based surveys or follow up phone calls.
zummii gives retailers valuable insight without the high cost of data acquisition.
"zummii lets retailers and customers alike harness the power of mobile communications to engage in that very important service experience discussion," says Wanzama. "Whether online or offline, zummii captures crucial customer feedback easily and quickly, making it worthwhile for the customer to tell the business how it did today. Customer opinions matter very much, and with zummii there's an incentive to capture that information."
zummii is available for download now on App Store/IOS(http://goo.gl/lhics) and Android(http://goo.gl/y7F7n) http://www.zummii.com
About GeekSpeak[commerce] Founded in 2004, GeekSpeak[commerce]– is a professional services creation firm with one focus; helping our clients engage their customers and sell smarter and sell more. Employing a handpicked team of expert marketers, copywriters, translators and designers, we engage your audience and communicate the passion of your brand.
For more information about GeekSpeak[commerce], please visit http://www.thinkgeekspeak.com or call at 1.416.619.5349
For more information about zummii visit http://www.zummii.com or email ilovezummii(at)zummii(dot)com
Facebook: http://www.facebook.com/pages/Zummii/103562409812578