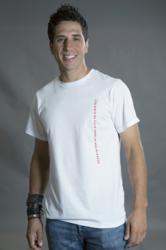 For anyone buying gifts for Father's Day, there's a way to amp up the fun to commemorate the occasion: get a t-shirt for dad and matching or coordinating tees for the kids.
Santa Cruz, CA (PRWEB) June 06, 2013
Yes, it's been said before: Dad has enough ties. Enough golf tees and fishing lures and running socks and gadgets. But enough geeky t-shirts that let him share his terrific sense of humor with the world?
Now we're talking! Engineers and science guys and just generally nerdy dads need a way to express their predilections. Given the probability that this kind of dad is also an introvert, a t-shirt lets him express himself without saying a word. If he really works it, he can minimize any human interaction and still share his love of the nerdy side of the world.
For anyone buying gifts for Father's Day, there's a way to amp up the fun to commemorate the occasion: get a t-shirt for dad and matching or coordinating tees for the kids.
Tees For Your Head's first recommendation for a great geeky gift for Father's Day is The Ways of Your People Are Strange tee, which pokes gentle fun at the foreign species being given the tee. Of course the designation of who, exactly, is the foreign species depends on who is the recipient and who is the giver, and roles can be reversed if Dad gives Mom the same t-shirt for Mother's Day.
In either case, the Ways of Your People tee would be a good candidate for putting on both father and child. What could be cuter than kids articulating the question that has been on their minds since birth?
Another option for gift giving: tell Dad he's Dazzlious. Tell him it means he's gorgeous, or brilliant, or whatever word is most appropriate. Since the word dazzlious is not found in the dictionary (although it can be found online), it is a user-defined variable.
For a t-shirt with general visual coolness and a secret nerdy past, the What's Your Point tee fits the bill. One of Tees For Your Head's most popular designs, this graphic-only t-shirt is actually based on the Koch algorithm, which has been manipulated beyond recognition by tee designer Tom Bates.
Teens, tweens, or little kids can be matched with Dad in this t-shirt, and their take on it can be different: what's your point, Dad? Give the kids a little independence by choosing different colors of t-shirts with the same design, making them nearly but not quite matching.
And for a final way to honor Dad: tell him he's Teemazing. The kids are, too, so put them into the same shirt. The design is a real maze generated by complex drawing software written by Tom Bates; in this case, the maze takes the shape of a T for a little geeky language joke.
If these more general tees aren't just right for Dad, Tees For Your Head offers more specific targets of geek love: physics, math, astronomy, fractals, and more. Just zip over to the website and check out the offerings.
For example, for daddy members of the South Pole Telescope team doing astrophysics work, they can finally get their kids into matching t-shirts, from toddler 2T through big-boy (men's) size 6XL. Tees For Your Head is the only source for these official team tees after the first run organized by the scientists themselves.
Happy Father's Day!
About Tees For Your Head
The online home of geeky t-shirts for lovers of the arts and sciences was launched in 2012. Husband and wife team Tom Bates and Karin Carter have an arts and science background and create their own designs to appeal to the geeks of the world. Santa Cruz tee shirt designs are in the works for this Santa Cruz-based business.
By the way, Tees For Your Head shirts are worn on the body, not really on the head. Just a helpful hint.
Find their unique and nutty tees at http://www.teesforyourhead.com online now.