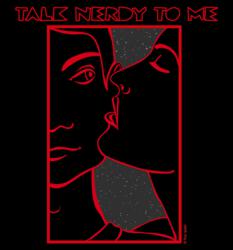 We know our t-shirts make great gifts, and when these designs are given on a holiday like Valentine's Day, they take on a special meaning.
Santa Cruz, CA (PRWEB) January 17, 2013
Nerdy t-shirts from Tees For Your Head are a sweet Valentine's Day gift--with no calories! "I personally have a love/hate relationship with chocolates, so I'm glad we can offer something for Valentine's Day that's guilt free," says designer Karin Carter.
With Valentine's Day around the corner, the hunt is on for great geeky gifts that celebrate love. The six designs featured here are also appropriate for an anniversary, birthday, or any special celebration for a significant other.
For the most hard-core geeks, there's the Talk Nerdy to Me t-shirt, which features a winsome maiden whispering in the ear of a dashing lad. It's hard to tell whether she's asking him to talk nerdy to her, or whether she's doing the nerdy talk. In either case, it's those discussions of Brownian motion, or the latest in League of Legends, that deserve to be whispered in ears everywhere.
Make a statement to a loved one: the Not T shirt can be read in several ways, including the homonym "naughty." This Liar's Paradox tee is subtle and no one else has to know what the shirt is implying, so any misbehaving can remain a secret.
Want to use a tee to make a compliment? Consider the Dazzlious t-shirt. It's a mashup of a reference to the movie Snow Cake and a medieval engraving of the universe. The original image--the Flammarion engraving--illustrates early nerdiness and the human drive to explore. The tee makes a beautiful compliment for a dazzlious, beloved geek.
What better way to say how wonderful someone is than with a tee that says "You're amazing!"? Or TeeMazing, as it were. Create a story that connects the little red dot at the beginning of the maze and the little red dot at the end of the maze, and the gift becomes meaningful and personalized.
Two more tees called "Feel the Love" and "Love Nerds" can be found on the Tees For Your Head website along with gift certificates, which can be sent via e-mail or snail mail. "We know our t-shirts make great gifts, and when these designs are given on a holiday like Valentine's Day, they take on a special meaning," comments Karin.
Give a t-shirt for Valentine's Day. Feel no remorse. And suffer no sugar hangover.
About Tees For Your Head:
The online home of geeky t-shirts for lovers of the arts and sciences was launched in 2012. Husband and wife team Tom Bates and Karin Carter have an arts and science background and create their own designs to appeal to the geeks of the world. Santa Cruz tee shirt designs are in the works for this Santa Cruz based business. By the way, Tees For Your Head shirts are worn on the body, not really on the head. Just a helpful hint.
Find their unique and nutty tees at teesforyourhead.com online now.