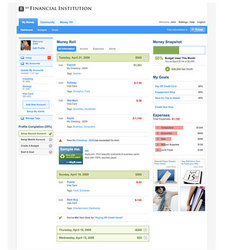 We're inspired by Stanford's relentless track record for innovation.
Hartford, CT (PRWEB) May 12, 2009
Geezeo announced today that Stanford Federal Credit Union, serving over 47,000 members with over $1 billion in assets, has signed on as the company's charter CreditUnion HQ client. CreditUnion HQ is a white label personal finance management (PFM) suite that combines account aggregation, budgeting, goal setting/tracking, closed community forums, a targeted cross-marketing platform, and categorized educational content. The management team at Stanford FCU selected CreditUnion HQ because they are confident in the technology, comprehensive suite of features and the expertise and support the Geezeo team can provide to meet their diverse business needs.
"We're inspired by Stanford's relentless track record for innovation." says Peter Glyman, Geezeo Co-Founder. "They were the first credit union to incorporate online banking and have continued to offer innovative products to their members. Through our partnership, we will aggressively add the financial tools, mobile access and a community resource Stanford FCU's members need to be financially successful. Once again, Stanford FCU is demonstrating leadership in their industry and offering the very best services to their members."
"This economic climate demands that we look for new innovative ways to help give our members every advantage when it comes to managing their money more effectively." says Ali Shafai of Stanford FCU. "Geezeo, with their CreditUnion HQ suite gives our members more money management options, both online and in their mobile lives. We expect that CreditUnion HQ will enhance member relations, increase retention, and attract a new generation of web-savvy members."
"More than ever our members are watching their budgets closely and striving to make the most of their money." continues Ali Shafai. "CreditUnion HQ's suite of tools gives our credit union members the latest technological tools to assess their financial behavior and make intelligent decisions accordingly."
Ali Shafai continues, "We selected CreditUnion HQ because it addresses our short term needs and will scale to include future technological enhancements. Geezeo's technology team seamlessly integrated our individual functionality needs within our branded look and feel. They also have the deepest account aggregation tools in the industry. Our members gain a familiar but more robust system for managing their money, online and out in the world."
"This is an important - and encouraging - announcement," according to Ron Shevlin, senior analyst with Boston-based Aite Group LLC. "Credit unions have a strong history of providing excellent customer service, but it's now an imperative that they up their game by offering tools to help their members better manage their money and make smarter financial decisions, and not simply offering them tools to better manage their accounts. Stanford Federal Credit Union and Geezeo are clearly looking to deliver on this imperative.
CreditUnion HQ is the most innovative and robust white label personal finance management (PFM) solution on the market. The platform delivers the best in money management tools for budgeting and tracking financial goals, includes account aggregation, powers a community platform and includes a highly targeted marketing platform that makes it easy for credit union marketing managers to intelligently offer products based on member data. Targeting offers to the right members results in an increase in product penetration resulting in an increase share of wallet. Geezeo is the only PFM solution that offers this comprehensive suite of features to credit unions.
"We're humbled that Stanford Federal Credit Union, a top-ranked national credit union serving the prestigious Stanford Community and over 100 local companies selected Geezeo as their partner of choice." adds Glyman.
About Stanford Federal Credit Union
Stanford Federal Credit Union is a full service financial institution owned and operated by the more than 47,000 members of the Stanford Community, including Stanford University, Stanford Hospital, Lucile Packard Children's Hospital, and Stanford Linear Accelerator Center. For more information visit: https://www.sfcu.org.
About Geezeo
Geezeo is a leading software services provider for banks and credit unions. We help organizations engage their base, reach new markets, and increase share of wallet. We see the worlds of finance, community, marketing, and technology continuing to meld, thus creating numerous exciting opportunities for financial organizations. Geezeo sits comfortably in the intersection of these opportunities, by providing experience, creativity, and technological expertise.
Geezeo's flagship products CreditUnion HQ and MyBank HQ include our Personal Finance Management (PFM), Community Answers and Education Content. For more information visit: http://geezeo.com
Contact: Peter Glyman, 860-918-3124
###