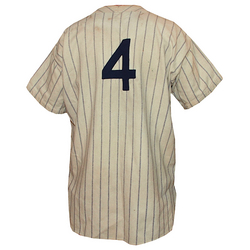 The Gehrig jersey is one of the most important historical items Grey Flannel Auctions has ever had the privilege of selling.
Westhampton Beach, NY (PRWEB) December 7, 2009 –-
Wondering what to buy this year for that picky sports fan on your holiday shopping list? A circa-1933 game-used home jersey worn by the New York Yankees' immortal Iron Horse, Lou Gehrig, would be hard to beat, as would an 18-karat gold World Series Championship ring from the 2004 battle royale between the Red Sox and the Yankees. These are only two of the premier lots in an all-star lineup of professional sports apparel, equipment and memorabilia offered by New York-based Grey Flannel Auctions in an absentee and Internet sale closing Wednesday, Dec. 9.
Grey Flannel's president, Richard E. Russek, remarked: "The Gehrig jersey is one of the most important historical items Grey Flannel Auctions has ever had the privilege of selling. Lou Gehrig was the first athlete ever to appear on a box of Wheaties. He was only 36 years old when a terminal illness forced him to retire, but his achievements as a hitter and first baseman were monumental – many of his records still stand to this day."
With a yet-to-be-broken career record of 23 grand slams, Gehrig was in a league of his own, and so is his game-worn apparel, Russek said. The pinstriped Yankees home jersey Grey Flannel is auctioning is 100 percent original, with Gehrig's long-retired number "4" on the back and the name "L. Gehrig" chain-stitched in red on the inside collar. Once part of the renowned Barry Halper collection, the iconic jersey requires a minimum $225,000 bid. As is the case with all game-used jerseys auctioned by Grey Flannel, the Gehrig jersey is accompanied by a Grey Flannel Auctions Letter of Authenticity (LOA).
Jerseys worn by stars from the current world champion New York Yankees lineup are poised for the auction spotlight, as well. A 2009 pinstriped game-used home jersey from team captain Derek Jeter, who this year broke Lou Gehrig's all-time record for career hits by a New York Yankees player, features a Yankee Stadium Inaugural Season patch on the left sleeve and his player number "2" on the back. The coveted jersey, with photo match, commands a reserve of $10,000. A game-used road jersey from Jeter's teammate, slugger Alex Rodriguez, displays both a "Yankee Stadium Final Season" and "2008 All-Star Game" patch, plus a black armband in memory of Yankees outfielder and broadcaster Bobby Murcer. A-Rod's jersey has a $7,500 reserve. Both the Jeter and Rodriguez jerseys are accompanied by Yankees-Steiner LOAs.
Documenting an unforgettable World Series, an 18-karat white gold 2004 Boston Red Sox World Championship ring that belonged to former Red Sox scout Pablo Lantigua is presented in its original box. On the ring's left shank is the phrase "Greatest Comeback in History 2004," with a pair of red enameled Boston Red Sox "socks" beneath it. The ring is generously adorned with diamonds and rubies, as well as words and images symbolic of Boston. It requires a minimum bid of $10,000.
All major sports are represented in the auction. Items may be viewed online at Grey Flannel Auctions' Web site, with bids accepted through and including Dec. 9.
On the Net: http://www.greyflannelauctions.com.
###