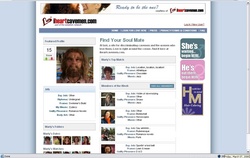 WASHINGTON (PRWEB) March 10, 2008
Visitors to the interactive site can upload user profiles and vote on their favorite entries. A special morphing feature allows male site visitors to look their best as caveman suitors, and gives female visitors a glimpse into the future at what their cavebaby offspring might look like.
Also featured on the interactive entertainment portal are video profiles and dates of the pining caveman, Marty, who, for those who have followed the GEICO ads closely, is still having a hard time trying to get over Tina.
Last year GEICO launched http://www.cavemanscrib.com to give followers of these pop cultural icons a glimpse of their personal lives. This portal site has attracted over 4.5 million visits and now has four versions including the new iheartcavemen.com.
To take advantage of the caveman phenomenon, please visit http://www.iheartcavemen.com.