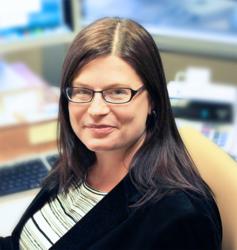 I'm extremely happy to be a part of the Geile/Leon team. Everyone has welcomed me with open arms, and I'm excited to be working with such a wonderful group of creative individuals.
St. Louis, MO (PRWEB) June 07, 2013
Geile/Leon Marketing Communications announced today that it has hired Anne-Marie Vaughan as the firm's business manager and controller. Her responsibilities include overseeing the agency's accounting, billing, human resources and employee benefits.
A licensed Certified Public Accountant (CPA), Ms. Vaughan joins G/L with 10 years of accounting experience, including the last year and a half with RubinBrown LLP. Prior to that, she spent 8 years with Bank of America Home Loans, during which time she earned her B.S. degree in Accounting from the University of Missouri-St. Louis.
Away from work, Ms. Vaughan enjoys traveling, roller-skating and watching Roller Derby. She and her husband Patrick reside in Overland.
|| ABOUT GEILE/LEON ||
Based in Clayton, MO, Geile/Leon offers clients an integrated approach to marketing, including brand discovery and development, advertising, social media and online capabilities, sales promotion, public relations and direct marketing. The company has a staff of 20, and had more than $4 million in billings in 2012. Its business-to-business clients include Lincoln Electric, XIOLINK, Branson Convention Center, Intercard, The Outsource Group and Nidec Motor Corporation.