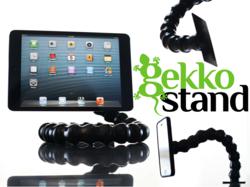 Any Device. Anywhere.
Denver, Colorado (PRWEB) February 08, 2013
Dwight Houser, inventor of the Gekko Stand, hopes that crowd-funding is the answer to getting his creation into commercial production. The Gekko Stand's Kickstarter campaign is set to launch on February 11th with a goal of $20,000 in pledges to go into production. Kickstarter is a popular crowd-funding website where creators pitch their project and people can pledge money in return for a reward. In the case of Gekko Stand, people will be pre-ordering the product in order to fund the stand's first production run.
In a video blog on GekkoStand.com, Dwight said, "The stand's versatility and simplicity are the biggest competitive advantages of our design." The Gekko Stand is comprised of two main parts: NanoSuction pads made from millions of microscopic suction cups, and a series of detachable and fully articulating ball-and-socket joints that form the arm. The stand works with any mobile device that has a flat surface on the back, and it has been tested with all of the industry leading smart phones and tablets on the market.
To get your hands on one go to GekkoStand.com, click on "Purchase" and you will be taken to the Kickstarter page. If the campaign hits its goal, you will be sent a Gekko Stand by July 2013. If it doesn't hit its goal you won't be charged for the transaction. The manufacturing process will take place in Reno Nevada and the stands will be assembled in and distributed from Denver, Colorado. Color choices and shipping details are gathered after the funding cycle and updates will be given throughout the campaign. Visit GekkoStand.com for more information and product demos.