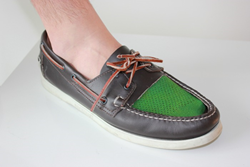 Gekks are specifically designed to give you smell-free comfort without having to sacrifice style, making them your ideal one-stop solution for wearing boat shoes or loafers this summer
Chicago, IL (PRWEB) April 07, 2014
The sockless style is a fashion trend that is popular by all shoe-wearers during the summer; however, achieving this look can be a challenge. From discomfort to odor to ruined shoes, there has never been a true solution to rocking the no-sock look, until now. Brothers Justin and Christian Arquilla are currently Kickstarting Gekks, the best option to going sockless in boat shoes, loafers and more. With just one week left to reach their $75,000 goal, the founders are hoping to bring Gekks to all shoe-lovers for the 2014 summer.
There are many so-called solutions available for looking stylish and staying comfortable while wearing boat shoes and loafers, but each alternative has its drawbacks. One solution is basic ankle socks. Despite the comfort ankle socks provide over going barefoot, they often show above shoes, committing a major fashion faux pas. Ultra low cut socks are a second, more favorable, sock option. However, low cut socks often slip off the heel, which makes wearers uncomfortable and annoyed. Putting medicated powder directly in boat shoes and loafers is a third choice. While powder helps with odor-control, it doesn't allow for much comfort and leaves traces wherever one goes during a day. Each of these alternatives provide either comfort, style or odor-control; however, they do not offer one, all-encompassing solution like Gekks.
"We were sick of having to choose between style, comfort or odor-control when we wanted to go sockless," says Gekks co-founder Christian Arquilla. "That is why we wanted to create the perfect no-sock option. Gekks are specifically designed to give you smell-free comfort without having to sacrifice style, making them your ideal one-stop solution for wearing boat shoes or loafers this summer."
While Gekks may appear similar to the average low cut liner, they take going sockless to the next level. Made of X-STATIC® yarn, Gekks provide the very best in antimicrobial and anti-odor technologies to keep both feet and shoes fresh for seasons to come. The thin liner hides perfectly beneath the surface and adds a layer of comfort that doesn't change how shoes fit, allowing owners to slip their feet into their boat shoes and loafers conveniently without the hassle of medicated powder or socks slipping off. Ultimately, Gekks are the best all-in-one solution for all to go sockless.
With just one week left on Kickstarter, Gekks needs the help of all shoe-lovers to reach their $75,000 goal. Head to http://bit.ly/GekksKS to back the must-have solution to going sockless this summer. Also, be sure to connect with Gekks on Facebook and Twitter @GekkLiners.
ABOUT GEKKS
Created in 2013 by Justin and Christian Arquilla, Gekks are the ultimate shoe liners for those who like to go sockless with boat shoes and loafers. They attach to the insides of shoes to alleviate discomfort and stench caused by sweat with X-Static® anti-microbial and anti-odor protection technology. For more information about Gekks visit http://www.mygekks.com.