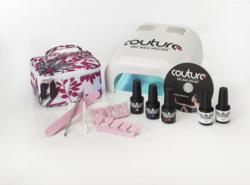 "within 15 minutes I have a manicure that lasts for weeks"
San Francisco, CA (PRWEB) October 25, 2011
Couture Gel Nail Polish, the first of its kind home gel nail polish kit, is now available for mail order via the company's new web site at couturegelnailpolish.com — and for a limited time, all customers will receive free shipping when they order the Couture Gel Nail Polish home kit.
For the first time, American women will have access to a manicure technique that Europeans have known about for years. Gel nail polish is a light-sensitive lacquer that quickly dries to a shiny, indestructible finish under a UV lamp. It's easy to apply, smoothes out any imperfections in the nails, and lasts for up to three weeks — which is why it's called "The Three Week Manicure." Couture Gel Nail Polish's home kit allows women to give themselves salon-quality gel nail polish manicures (and pedicures) for a fraction of the price and none of the inconvenience of going to a salon. With Couture Gel Nail Polish, nails never chip, flake or smudge, and it's easy to apply the polish and take it off when it's time for a color change.
Couture Gel Nail Polish debuted with 28 bold and beautiful colors, with new colors expected to be announced every season. This season's colors include the cheekily-named "Catwalk," "Moody Model" and "Fishnet Stockings." A full spectrum of colors can be viewed on the web site.
Company founders Laura and Melissa Jenkins are a business-savvy mother/daughter duo with a personal connection to their product: it was through their own travels to Europe that they initially discovered gel nail polish, and the Couture Gel Nail Polish company was born from their commitment to bringing this product back to the U.S. and making it available to American women, who don't always have the time or budget to visit nail salons — never mind go to Europe to get their nails done.
As co-founder Melissa Jenkins tells in her portrayal of how Couture Gel Nail Polish came to be, "We slowly pulled together the pieces and parts that make up our amazing gel nail polish kit. We researched a chemist, we came up with all the polish colors — which are vibrant and gorgeous! — and we put together this great kit." And early adopter customer Paulette Gamba says: "Couture Gel Nail Polish enables me to do it at home, and within 15 minutes I have a beautiful, dry manicure that lasts for weeks."
The Couture Gel Nail Polish kit retails for $129 (a $179 value) and comes with: three gorgeous shades of gel nail polish, a top coat and a base coat, a salon-quality 36-watt UV Espree Salon Lamp, a step-by-step brochure and a bonus instructional DVD on application and removal tips and techniques, a quality zip-up nylon carrying case, and a free bonus gift of professional manicure tools. The kit can be purchased on Couture Gel Nail Polish's web site, with free shipping until further notice.
About Couture Gel Nail Polish
Couture Gel Nail Polish was founded in 2011 by Laura and Melissa Jenkins and is headquartered in San Francisco, CA, where products are manufactured and shipped to anywhere in the continental U.S.
###