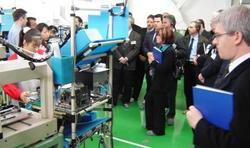 I now know what good looks like, and it's a lot simpler than I thought it would be.
Seattle, WA (PRWEB) May 21, 2008
Despite the proliferation of lean manufacturing and TPS (Toyota Production System) books and training courses in the market today, the best way to learn is to "Go to the gemba, the actual place of action, to see for yourself." On the week of October 26-30, 2008, Gemba Research, a global lean consulting firm, will lead their 57th lean study mission for a first-hand look at the operations of world class Japanese companies. Participants will walk the processes of the Toyota assembly plants, as well as other facilities chosen from their network of over of 80 world class firms.
Some of the most striking features of the shop and office floors of these benchmarking tour sites is the steady yet unrushed rhythm of work, a sense of orderliness, an abundance of visual cues and the massive numbers of low cost employee innovations.
Lectures, discussions and Q&A sessions led by Gemba consultants add depth and perspective to these tours. Gemba's consultants conduct daily pre- and post-visit sessions to coach participants on seeing beyond the techniques to discover the thinking behind them. Host site managers openly share their problems and challenges. Small group and wrap-up sessions help clients in envisioning their own implementations. Retired Toyota executives add a further dimension of learning by sharing their 30+ years of experience of doing and training TPS.
Four-star hotels and first-class travel in super-express bullet trains and chartered buses ensure optimum rest to reset body clocks and keep up with the pace. As Stephen LeBlanc, Director of Bombardier Aeronautique remarked after an intensive week-long agenda, "I now know what good looks like, and it's a lot simpler than I thought it would be."
Dedicated to teaching Lean management principles, Gemba Research, for the past 10 years, has led study missions to more than 80 world class companies in Japan, delivering the experience to over 1,000 people.
For additional information on joining the October trip, please contact Mae Nagai at Mae.Nagai @ Gemba.com.
Contact:
Mae Nagai, Manager, Kaikaku Experience
Gemba Research
+1-425-356-3150
http://gemba.com
###