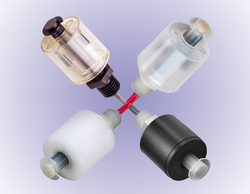 Plainville, CT (Vocus) September 29, 2010
LS-3 Series compact all plastic liquid level switches, from Gems Sensors & Controls, are ideal for shallow tanks, restricted spaces or for any low-cost, high volume use. The highly reliable design of the LS-3 Series level switch operates on a simple principle: a magnet-equipped float moving directly with the liquid surface actuates a hermetically sealed reed switch within the unit's stem. As with all Gems buoyancy type level switches, contact between the fluid and the switch is hermetically sealed, ensuring long life and reliable operation.
LS-3 Series level switches are available in a wide variety of engineered plastics, including polysulfone, polypropylene, and FDA-approved PVDF. They offer broad water-based, chemical, oil, and food grade compatibility at an attractive price for OEMs. Models are available to withstand temperatures ranging from -40°F to +250°F (-40°C to +121°C), and pressures to 150 psi (10.3 bar). These compact units measure as little as 0.75-inch in diameter and are less than 2" in length below the mounting. A unique fluted stem prevents build-up from dissolved solids in the monitored liquid.
LS-3 Series switches are easy to install: they operate with either end up, and are virtually maintenance free. Mountings include 3/8"-16 straight thread, 1/8" NPT, G1/8", and M12x1.75 straight thread. Switch actuation is easily changed from N.O. to N.C. by reversing float position on the stem. LS-3 switches are also available in other unique configurations for special applications, such as low liquid levels and turbulent fluids. Approvals include UL Recognition, CE, CSA and FDA.
Founded in 1955, Gems is a preferred supplier to thousands of OEM companies across a broad range of industries through out the world due to its extensive application knowledge, innovative sensor and miniature solenoid valve designs, and customer centric approach to problem solving. Gems Sensors & Controls is a leading global manufacturer of: liquid level, flow, and pressure sensors; solid-state relays and barriers; liquid and pneumatic miniature solenoid valves; and pre-assembled fluidic systems with facilities in North America, Europe, and Asia. Gems Sensors & Controls is ISO 9001, ISO 13485, UL, and CE certified. For more product information, contact Gems Sensors & Controls, One Cowles Road, Plainville, Connecticut 06062. Phone: (800) 378-1600. http://www.GemsSensors.com.
Press Contact:
Betsy Neale-Siemon
PH: 860-793-4333
Bneale-Siemon(at)GemsSensors(dot)com
# # #