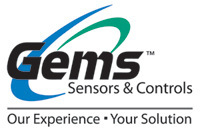 thick. CAP-200 Series mount via a threaded ½
Plainville, CT (Vocus) December 23, 2009
The new CAP-100 and CAP-200 Series Capacitive Liquid Level Sensors, from Gems Sensors & Controls, offers a unique level sensing solution for a wide variety of bottle types including plastic, glass and fiberglass. These compact sensors are ideally suited for medical applications such as waste, reagent or diluent liquids as well as dark, sticky or viscous fluids. Easy-to-calibrate, both sensor series are available in both aqueous and non-aqueous versions and can be delivered with factory preset sensitivity for quick installation for OEM orders. They may also be used as a proximity sensor to detect the presence of solids such as paper or pulp.
The two series are distinguished by their mounting method. The CAP-100 Series is a non-contact sensor that mounts to exterior of non-metallic tanks and bottles with wall thicknesses up to 5/8" thick. CAP-200 Series mount via a threaded ½"NPT boss in either metallic or plastic vessels. Made with Delrin® bodies, the CAP-200 is suitable for food and beverage application without the need of a sensor well. Both series are available in models that support either aqueous or non-aqueous liquid detection, with a choice of Wet- or Dry-Sink switch actuation.
Both Series are compact. The externally mounting CAP-100 measures 57mm x 30mm, while the CAP-200 is just 52mm long. They incorporate LED signal and power indicators. An integrated potentiometer allows sensitivity field adjustments. A 10-48 VDC supply voltage is required for operation.
More complete specifications, dimensions and wiring diagrams for these new Capacitive Liquid Level Sensors are available at GemsSensors.com.
About Gems Sensors & Controls
Founded in 1955, Gems is a preferred supplier to thousands of OEM companies across a broad range of industries through out the world due to its extensive application knowledge, innovative sensor and miniature solenoid valve designs, and customer centric approach to problem solving to meet customer-specific needs. Gems Sensors & Controls is a leading global manufacturer of: liquid level, flow, and pressure sensors; solid-state relays and barriers; liquid and pneumatic miniature solenoid valves; and pre-assembled fluidic systems with facilities in North America, Europe, and Asia. Gems Sensors & Controls is ISO 9000, UL, and CE certified.
For more product information, contact Gems Sensors & Controls, One Cowles Road, Plainville, Connecticut 06062. Phone: (800) 378-1600. http://www.GemsSensors.com.
Press Contact:
Betsy Neale-Siemon
Phone: 860-793-4333
###