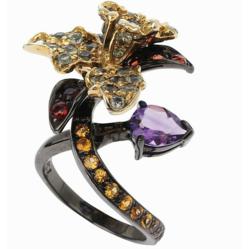 Gemorie.com captures life's 6 main elements and encapsulates it in the finest gemstone jewelry.
Rowland Heights, CA (PRWEB) February 23, 2012
There are six elements in life: fire, water, wood, earth, gold, and Deva. It is believed that each element has a wonderful story to tell. Gemorie.com, gemstone jewelry and fine jewelry online retailer captures each element's story and puts in every dazzling piece of jewelry sold. Hence, the innovative Element Collection was born and introduced in this gemstone jewelry and fine jewelry ecommerce store.
The Fire Element features gemstone jewelry in hues and colors that evoke passion and energy such as reds, pinks, and violets. Rubies, amethysts, garnets, pink pearls, and such are among the precious and semi-precious stones used by Gemorie.com.
The Water Element is all about tranquility and quiet strength. Gemstones in this collection feature black and azure hues such as turquoises, aquamarines, blue topazes, sapphires, black pearls, etc.
Meanwhile, nature is the main focus of the Earth Element. The gemstone jewelry in this collection feature muted cream and deep golden hues that encapsulate the timeless beauty of Mother Nature. Moonstones, rutiled quartz, and golden pearls are the stones used in this collection.
The Gold Element is classic, timeless, and elegant. Gemorie.com uses amber and champagne hued rutiled quartz, moonstones, and golden pearls to tell the story of this gemstone jewelry element collection.
The Wood Collection keeps the tree in mind, speaking of growth, strength, and rebirth. Hues of green such as the peridot, jade, emarald, etc. are the gemstones used in this collection.
Lastly, The Deva collection is inspired from the mysterious powers of Hindu gods. Patterns and mystical colors such as intensely hued gemstones set in silver with black plating describe the gemstone jewelry collection under this element.
The Element Gemstone Jewelry Collection of Gemorie.com uses only the finest quality precious and semi-precious stones and the best raw materials available. Choose from a wide variety of rings, earrings, necklaces, pendants, bracelets, bangles, and brooches under this collection. Gemstones are set in 10k to 24k gold and white gold metals, as well as high-quality silver.
Visit and shop at http://www.gemorie.com and learn more about the Gemorie Promise of each and every gemstone jewelry and fine jewelry. Subscribe to the newsletter for exclusive deals and discounts or visit the company's official blog to learn more about gemstones, element jewelry, fine jewelry, and more.
About Gemorie.com
Gemorie.com is an online retailer of fine jewelry, wedding jewelry, gemstone jewelry, birthstone jewelry, and more. Only AAA quality natural gemstones are used and are housed in 10k to 24k yellow gold, white gold, or platinum settings. For more information, please visit http://www.gemorie.com. Press release produced by Cybertegic.com – an Internet marketing services agency that specializes in search engine optimized press release marketing (SEO marketing).
###