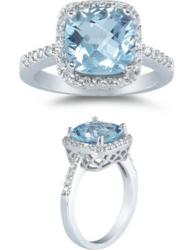 Los Angeles, CA (PRWEB) November 02, 2011
With the prices of diamonds consistently high, many jewelry lovers turn to colored gemstone rings as a way to indulge in a little bling without breaking the bank. While colored gemstone engagement rings have long been popular in Europe, the United States still pines for the colorless diamond. But with higher quality stones, more fashion-forward designs, and affordable prices, colored gemstones are getting a second look—both for wedding and fashion jewelry.
Apples of Gold has responded to the trend with an extensive line of new colored gemstone rings for fall and winter 2011. Prominent among the new pieces is the London blue topaz. The deep blue stone, resembling a slightly subtler sapphire, is a popular stone and available in a range of options, cuts and styles. Black diamonds appeal to the tastes of brides looking for something bold and edgy in their wedding jewelry.
While traditional colored gemstones like ruby, sapphire, and emerald will always hold their place among the company's best sellers, Apples of Gold is excited about the rising popularity of non-traditional, less common gemstones like the chocolate-y smoky quartz, the icy green amethyst, the bright citrine and the muted rose kunzite. New additions to the line reflect a customer demand for unique gemstones.
Apples of Gold's fall and winter jewelry will also include a variety of colored gemstones set in sterling silver. The white metal pairs well with the colored stones and helps women afford the indulgence of a fine piece of quality jewelry at a price far less than white gold or platinum.
Despite being beautiful and trendy in their own right, colored gemstones are especially appealing to couples who desire extraordinary wedding jewelry without the extraordinary price tag. The 2011 fall and winter line of colored gemstones reflects Apples of Gold's commitment to offering stunning jewelry at affordable prices. Founded in 1999, the company set out to develop a jewelry company that would not only do well, but would do good. Ethical, value-based pricing practices were the foundation. The Apples of Gold commitment to quality in their products and the highest standards for customer service and consumer satisfaction come naturally. In the fine jewelry industry, Apples of Gold is a diamond (or colored gemstone) in the rough.
Contact:
Apples of Gold
Afshin Yaghtin
606 South Hill Street, Suite 717 Los Angeles, Ca 90014
Email: marketing(at)applesofgold(dot)com
http://www.applesofgold.com
###