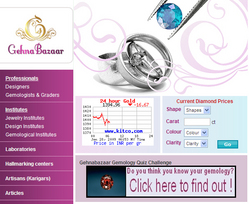 Mumbai, Maharashtra (PRWEB) January 29, 2009
Buying gemstones and jewelry is a high-risk job as it is extremely difficult for a lay man to distinguish a precious stone from an imitation. Not only is there an element of fraud involved it is also difficult to find a place where you can buy gemstones and jewelry with confidence that you are getting good value for money.
It is obvious that we would rather buy these precious items from a trusted source rather than buying off the cuff. The better policy is to prepare ourselves before we venture out to buy.
In the present scene of fast communication and easy access to information, the Internet is a very convenient tool for gathering information and buying almost anything and everything. This is one such site that may instill some confidence in you before you actually dig into your pocket (or rather sign a charge slip) before buying gemstones or jewelry. It is much more than a jewel store.
GehnaBazaar is a platform for budding artists and upcoming jewelry designers to display their products. It is also an information portal for students, jewelry designers and consumers and also for those interested in selling gemstones and jewelry. It also has a jewel store.
For students it provides all information that they would need to educate themselves: informative articles about the history of gems and how they are formed under the earth and the factors that actually make a piece of mineral precious. There are also links that direct you to jewelry designing schools and institutes specializing in gemology.
For those generally interested in gemology and facts the site contains certain very amazing facts. For example, most of us believe that big diamonds are rarer than gold. The fact, however, is that a one ounce natural gold nugget is rarer than a 5 carat diamond. The dedication of the site to education in gemstones can also be gauged by the fact that it has a gemology quiz for people to check their knowledge about gemstones where they can also challenge their friends to participate and compete.
Buyers can benefit by learning the intricacies of gemstone trade: informative articles about factors to look for in authentic gems including diamonds. Diamond and gold being the most popular in precious stones and metals, the site displays the current gold price and has a very convenient tool that lets you calculate how much a diamond of particular size would cost. All that you have to do is to type in carat, cut and clarity and you get to know the going price. And if you wish to check further you have all the reputable gemologists, graders and hallmarking centers in India and worldwide listed on the site itself.
In another couple of months the site intends to hold a jewelry designing competition to provide another platform for jewelry designers who find it difficult to get adequate exposure otherwise. Check out http://www.gehnabazaar.com regardless of the fact that you are a consumer or a student or have something that you have created and want to sell.
###