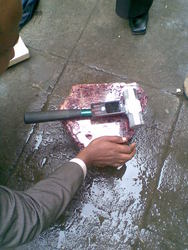 When the stone finally arrived, the miner's legs were bloodied from holding the heavy sharp-edged rock on the motorcycle
(PRWEB) October 7, 2007
Mined at depth of 10 meters in a farmer's field in Mahenge, Tanzania, the pyramid shaped crystal weighing over 52kgs was discovered by a group of miners in the alluvial deposit.
Mining in the area is normally conducted by loosely organized syndicates of small miners funded by local entrepreneurs. The discovery almost sparked a riot as hundreds of other diggers moved in for a piece of the action. After escaping into the bush on a motorcycle, the miner and his motorcycle driver were forced to lay low without food and water for several days before making their way on to Morogoro, and then to Arusha.
"When the stone finally arrived, the miner's legs were bloodied from holding the heavy sharp-edged rock on the motorcycle" - noted an observer from Multicolour.com.
The impressive crystal was the vibrant orangey pinkish red color that is considered to be top for spinel. Even though the yield is expected to be as low as 3%, the sheer size of the rough still translates into several thousand carats of gems worth several million dollars. After cobbing, the gemmy chunks were hand carried to Bangkok, Thailand for faceting. Although most of the stones are small, a significant number of stones ranging in weights between 5 and 30 carats have already been faceted and sold. One piece is expected to cut a near clean stone over 50 carats.
Many of the stones are expected to be sold in Europe where the strong euro makes gem prices especially attractive right now. As the processing of the rough continues, a large selection of gemstones will be available online at Multicolour Gems website.
Spinel is the great imposter of gemstone history - many famous rubies in crown jewels around the world are actually spinel. In Burma, where some of the most beautiful colors are mined, spinel was recognized as a separate gem species since 1600 but in other countries the masquerade continued for hundreds of years. Historically, fine red spinels were esteemed as much as ruby, and sometimes even more. Next to ruby and the rare red diamond, spinel is the most expensive of all red gems. With a hardness of 8 and no cleavage planes, spinel is a tough and durable gemstone suitable for any kind of jewelry. Spinel is a favorite of gem dealers and gem collectors due to its brilliance, hardness and wide range of spectacular colors. Vivid traffic light red and cobalt blue are the most expensive colors for spinel and nice stones over 3cts are very rare.
Multicolour Gems Ltd is a major importer and processor of rough stones from East Africa and Madagascar. An online leader and wholesaler of precious and semiprecious gemstones, their website is located at http://www.multicolour.com. Multicolour.com offers consumers
a fast and easy way to buy gemstones at wholesale prices with complete confidence. Gemstones are selected and strictly graded according to GIA colored stone grading standards and 3rd party certification for all stones is also available. The well designed
website is easy to navigate and offers over 10,000 natural gemstones including an extensive selection of spinels in a variety shapes, sizes, and price ranges. Multicolour Gems is located in Bangkok, Thailand.
The company can be reached by phone at 1-866-900-GEMS in USA.
Online now, over 400 carefully graded spinel lots at: http://www.multicolour.com/spinel.html
###