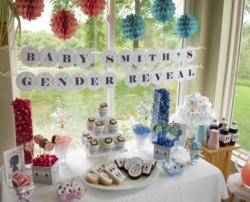 Everyone loves to celebrate. ~ Juliann Ford, Creator of the Big Dot Original Gender Reveal Baby Shower Theme
Menomonie, WI (PRWEB) June 21, 2012
Expectant parents find out all kinds of things at the doctor's office, but having the doctor announce their baby's gender in this sterile environment is no longer one of them. After checking all of the vital parts and giving Mommy- and Daddy-To-Be a special view of their bundle of joy waving hello, the gender is secretly sealed into an envelope and passed along to someone who will facilitate the reveal at a later date. Although not a completely new party trend, the gender reveal party has been gaining momentum among expectant parents, sometimes taking the place of the traditional baby shower.
BigDotOfHappiness.com is a one-stop shop for party supplies and party themes, so when they recognized gender reveal baby showers were a growing party trend, it was natural to provide this theme to party planners. "I wanted to make sure there were options for Hostess Heroes planning a gender reveal event," said Juliann Ford, advanced graphic designer and creator of the Big Dot Original Gender Reveal baby shower theme. "They can mix and match between pink and blue Gender Reveal, pink Girl? or blue Boy? party supplies, so their event is absolutely one-of-a-kind." Key Gender Reveal baby shower theme pieces will easily set the stage for Mommy- and Daddy-To-Be to find out the sex of their baby, right along with the most important people in their life.
"Everyone loves to celebrate," says Ford. "And what better reason than one of the most exciting times in a couples life - finding out if they are having a girl or a boy." Using the Gender Reveal party theme, BigDotOfHappiness.com put together a collection of Gender Reveal party ideas to aid Hostess Heroes in throwing the perfect gender reveal baby shower. From candy buffets and sweet treats baked at the Big Dot Bake Shop, to personalized baby shower invitations and table decorations, Hostess Heroes can easily find the party supplies they need for exciting gender reveal party.
About Big Dot of Happiness, LLC
Big Dot of Happiness, LLC, is an event party company and the originator of various games, invitations and themed party supply products called "Big Dot Originals." With personalized invitations, impressive party favors and unique party decorations, Big Dot of Happiness, LLC, makes everyday parties into extraordinary events. Making life's occasions fun. It's about time. "We create remarkable smiles by embracing a remarkable culture."
Contact:
PR Coordinator
Big Dot of Happiness, LLC
1.800.274.4282
http://www.bigdotofhappiness.com