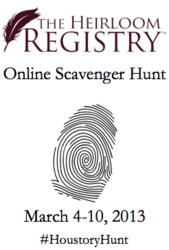 "I won't always be around to tell the history of our family pieces. My 8-year-old grandson can search by the registry number and read about his second great grandmother's red ceramic pitcher just like that!" -- Pat Richley-Erickson, DearMYRTLE author
Ferndale, Wash. (PRWEB) February 27, 2013
Houstory's Heirloom Registry Scavenger Hunt, running from March 4-10, announces the addition of three more sponsor blogs: DIY Del Ray, GeneaBloggers and DearMYRTLE Genealogy Blog.
The weeklong event will include 12 blogs, three separate hunts, and four prize packages (valued at more than $500 total) geared toward family history and genealogy fans.
"We couldn't be happier to welcome these three, popular and influential blogs to the scavenger hunt," said Dan Hiestand, Houstory marketing director. "They each have distinct, unique messages, as well as wide and loyal followings. Most importantly, they all believe in the power of family history and legacy – cornerstones of what we are trying to do."
Pat Richley-Erickson, author of the DearMYRTLE Genealogy Blog, said she appreciates the mission of The Heirloom Registry.
"Be it a flour sifter, slide rule, quilt or grandfather clock, preserve the story of your precious heirlooms with HeirloomRegistry.com," said Richley-Erickson. "It's easy to order the registry stickers, then snap pics and upload to this innovative site. I won't always be around to tell the history of our family pieces. My 8-year-old grandson can search by the registry number and read about his second great grandmother's red ceramic pitcher just like that!"
Katie Briscoe, one of the founders of DIY Del Ray, said she is "thrilled" to participate in the hunt, and to take time to remember her own family's history.
"It's such a treasure to have family heirlooms in our home," Briscoe said. "I love this opportunity to celebrate and remember those who came before us."
Thomas MacEntee, founder of GeneaBloggers, said the hunt is a good fit for family historians.
"Isn't genealogy just one big scavenger hunt?" MacEntee said. "So if you enjoy 'the hunt' like I do, take a break from your family history research and try your hand at this fun online activity. Who knows? You could win something that will help take your genealogy to the next level!"
About GeneaBloggers
GeneaBloggers is a free online community of genealogists and family historians committed to augmenting their passion by blogging about their research and family stories. Since January 2009, GeneaBloggers has grown to include over 3,000 genealogy and family history blogs of every topic and type – from Acadian Genealogy to Writing Family Stories. GeneaBloggers organizes a variety of online activities which are free and open to anyone with a genealogy or family history-related blog. Visit http://geneabloggers.com/ for more information.
About DIY Del Ray
DIY Del Ray celebrates the art of small-space living and the creative spirit. We talk about interior design, unique storage solutions, living with kids, home improvement and craft projects, entertaining, and all the charming features of Del Ray, a neighborhood in Alexandria, VA. On our site you'll also find Del Ray home tours, field trips to local salvage yards and artist studios, incredible before and after room transformations, green and eco-friendly living tips, step-by-step food and drink recipes, ways to repurpose old materials and lots of fun ways to enjoy your home. For more information, visit: http://diydelray.com/.
About DearMYRTLE
DearMYRTLE is the nom de plume of Pat Richley-Erickson, author of the award-winning DearMYRTLE Genealogy Blog, consistently among the top five family history blogs internationally, where her focus is on beginning genealogy topics. A speaker at regional and national conferences including several live videocasts at RootsTech2011 and 2012, Myrt is co-founder of the Genea-Quilters group on Facebook, and founder of http://www.GeneaWebinars.com, a centralized calendar and blog for all known genealogy webinar hosts and virtual presenters. Myrt is also an active member of the Second Life (SL) Chapter of the Association of Professional Genealogists, and coordinator of SL's Just Genealogy including the Inferential Genealogy Study Group. Online since 1985 in membership development with Q-Link's Your Family Tree and later on the leadership team of AOL's Golden Gate Genealogy Forum, Pat is a retired post-secondary computer instructor. She and her husband maintain homes in Alexandria, Virginia and Salt Lake City, Utah. For more information, visit http://www.DearMYRTLE.com.
About The Heirloom Registry
The Heirloom Registry is a new service from Houstory. Record a family heirloom's history in The Heirloom Registry, and its story travels with it. Always. Inexpensive, simple: Tag heirlooms with Registry IDs, and share stories in words and pictures at http://www.heirloomregistry.com. Registered stories are permanently accessible to future owners.
###