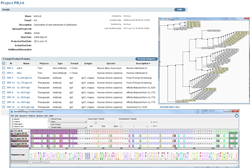 Our collaboration with Sanofi will drive the development of Genedata Biologics as the platform of choice for the discovery of novel biopharmaceuticals.
Basel, Switzerland (PRWEB) October 30, 2013
Genedata, a leading provider of advanced software solutions for drug discovery and life science research, today announced that Sanofi, a leading global healthcare company, has chosen Genedata Biologics as its data management platform for biologics screening activities. The first-in-class enterprise system will be used across different Sanofi research sites as a data management and workflow support platform to automate experimental data capture, increase experimental throughput, and facilitate data sharing throughout the biologics R&D process.
Out-of-the-box, Genedata Biologics supports diverse biologics R&D processes. The platform enables fully automated, high-throughput biopharmaceutical discovery and development workflows and can directly interact with laboratory instruments and robotics equipment. By increasing experimental throughput, minimizing data handling errors, and ensuring consistently high data quality standards, Genedata Biologics significantly improves efficiency in the discovery and development of novel protein-based therapeutics.
"We are delighted that Sanofi, a leading innovator in the discovery of novel biopharmaceuticals, has selected our Genedata Biologics platform," said Dr. Othmar Pfannes, CEO of Genedata. "Our collaboration with Sanofi will drive the development of Genedata Biologics as the platform of choice for the discovery of novel biopharmaceuticals."
About Genedata
Genedata transforms data into intelligence with a portfolio of advanced software solutions, which make research data accessible and understandable and research processes more efficient. These solutions are used worldwide by leading pharmaceutical, industrial, and agricultural biotechnology companies as well as academic research organizations. Genedata innovations enable scientific discovery that fights disease and improves health and quality of life worldwide. Founded in 1997, Genedata is headquartered in Switzerland, and has offices in Germany, Japan, and the US.
Disclaimer
The statements in this press release that relate to future plans, events or performance are forward-looking statements that involve risks and uncertainties, including risks associated with uncertainties related to contract cancellations, developing risks, competitive factors, uncertainties pertaining to customer orders, demand for products and services, development of markets for the Company's products and services. Readers are cautioned not to place undue reliance on these forward-looking statements, which speak only as of the date hereof. The Company undertakes no obligation to release publicly the result of any revisions to these forward-looking statements that may be made to reflect events or circumstances after the date hereof or to reflect the occurrence of unanticipated events.
All product and service names mentioned are the trademarks of their respective companies.