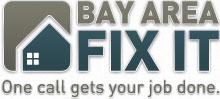 Bay Area Fix It is a win-win for homeowners and local contractors. We take care of the hassle of searching for quotes, and we help refer work to local small businesses
(PRWEB) September 24, 2011
Bay Area Fix It is proud to announce an easy-to-use phone referral service that connects homeowners, realtors, and property managers with locally owned Bay Area general contractors, plumbers, electricians, painters, and other home repair and improvement experts. The free service from Bay Area Fix It quickly connects homeowners with the right contractor for any home repair project, no matter how big or small.
Homeowners or landlords simply call (415) 413-3472 and tell the consultant what they require. The consultant will assess their needs, and find potential contractors from a database of pre-qualified local contractors. Within 1 hour, Bay Area Fix It will find 3 contractors who will contact the property owner to give a quote. If the homeowner is not completely satisfied with the first 3 contractors who call, Bay Area Fix It will recommend 3 more until the right match is made. It's that easy.
According to the landing page on SFGate.com, "Whether you need plumbing contractors to help with a bathroom remodeling project or general contractor to oversee a home addition, Bay Area Fix It will recommend licensed, bonded, local professionals to take on your project."
The founder of Bay Area Fix It, Lionel Cabral, started the company because he knew from owning property himself how difficult it can be for homeowners to sift through all the potential contractors to find the right one for the job. He also wanted to help reputable local contractors connect with people who need their valuable skills and services.
"Bay Area Fix It is a win-win for homeowners and local contractors. We take care of the hassle of searching for quotes, and we help refer work to local small businesses," says Cabral.
Unlike the Yellow Pages or a Google search, all of the contractors recommended by Bay Area Fix It are prescreened for the following:

State level trade license in good standing
Valid insurance
Valid state business fillings
Lien search
Civil records search
Criminal background search
Sex offender search
The new service gives homeowners peace of mind that their contractor is fully qualified and capable of doing the job they're hired to do.
"I had a simple landscaping job. I contacted a few landscapers myself but was told the job was too small. The guys at Bay Area Fix It found me two remodeling contractors willing to come out and do the job for me," said Justin P. in Alameda. "The estimates were really cheap and I had my garden up in no time."
For more information about Bay Area contractor referral services from Bay Area Fix It, call them at (415) 413-3472 or visit them online at http://www.bayareafixit.com.
About Bay Area Fix It
Bay Area Fix It is the only military veteran owned local contractor referral service that matches homeowners, realtors, and property management companies with Bay Area electrical contractors, handymen, carpenters, landscapers, painters, roofers, floor layers, plumbers, and other home repair services. Property owners call (415) 413-3472 and explain their needs to the consultant. Within an hour, the consultant will find 3 locally owned contractors who will call the property owner with a quote. The contractors are all pre-screened to ensure they are fully licensed and insured, and in good legal standing.
###