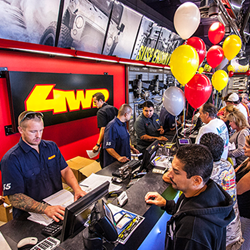 We really enjoy it because it lets us get to know our customers and really talk about the products with them
Compton, CA (PRWEB) February 06, 2015
Residents of Little Rock, AR will have the opportunity this weekend to celebrate the Grand Opening of 4 Wheel Parts' newest store as they open the doors to truck, Jeep and SUV owners for a day of free food, expert advice and exclusive savings on wheels and tires, off-roading accessories and more on Feb. 7 from 9 a.m. to 5 p.m. There will also be a free t-shirt for the first 100 people through the door and chances to win prizes in hourly drawings and giveaways.
"It's a great opportunity for us to meet our community," says Little Rock Store Manager Nick Gulalo. "There are a lot of sales and prizes, but we really enjoy it because it lets us get to know our customers and really talk about the products with them."
4 Wheel Parts now has a total of 61 locations in the U.S. and six in Canada and the Little Rock store is the first in a chain of expansions planned for 2015. There are three more new stores tentatively scheduled for 2015 as well as the continued remodeling of existing 4 Wheel Parts Stores to the new, interactive design. Each newly opened and newly redesigned store will hold an opening celebration with free admission, welcoming the community to join them for free food, giveaways, savings, drawings and more.
The Grand Opening celebration in Little Rock this weekend will also have custom-built trucks and Jeeps on display and is offering 10% off all Smittybilt, Pro Comp, G2 and Rubicon Express brand products. 4 Wheel Parts is also offering one-day-only exclusive pricing on its selection of Smittybilt XRC 9500 winches while supplies last.
Everyone who attends will have the chance to win a 4 Wheel Parts R/C Truck or $1,000 Shopping Spree Giveaway, no purchase necessary. The expert staff are able to install every product on the shelves, so anything purchased or won at the Grand Opening can be placed onto the customer's truck, Jeep or SUV on site.
The address of the new Little Rock store is 5620 Warden Road, North Little Rock, AR 72116. Additional information can be found on the 4 Wheel Parts store locator page.
About 4 Wheel Parts: 4 Wheel Parts is a retailer specializing in aftermarket parts for off-road and 4x4 enthusiasts. With 67 locations in North America, 4 Wheel Parts installs all the products it sells while also operating a robust mail-order and e-commerce distribution network to serve customers across the country and around the world. 4 Wheel Parts carries North America's largest inventory of truck and Jeep parts including General Grabber AT2 tires, suspension systems, Magnaflow exhaust systems and more. Their toll-free order number is 877-474-4821.