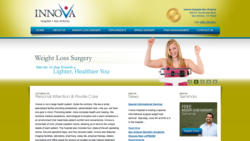 San Antonio, TX (PRWEB) November 30, 2011
Doctors at Innova Hospital San Antonio are announcing its name change to Victory Medical Center - San Antonio, effective immediately. The hospital was originally founded in 2005, however, ownership has been transferred to Victory Healthcare, both of which are founded and owned by Chairman and CEO Robert N. Helms. Victory Medical Center - San Antonio provides patients with focused care in a number of fields, ranging from orthopedics to weight loss surgery in San Antonio. Victory Healthcare says despite the name change, it remains committed to offering patients the latest in surgical techniques and technology with the same level of quality, personalized patient care.
Victory Healthcare is also announcing plans to break ground on Phase I of the two-phased medical complex, Victory Surgical Hospital, set to be begin construction in January 2012 in northwest San Antonio. The 95,000-square-foot facility will contain a 14,000-square-foot expanded Emergency Department to serve both the medical complex and the greater community's emergency medical needs. Victory Surgical Hospital will also be equipped to perform bariatric surgery, endoscopic neurosurgical procedures, and comprehensive fusion surgery. Victory Healthcare says the new facility will help them continue to offer more patients their services in bariatric surgery and orthopedics in San Antonio.
Through the renaming and construction plans, Victory Healthcare says it hopes to be able to provide even more patients with dedicated and personalized care by expanding its medical practices into new areas. It also says the new facility and new name will hopefully reassure patients of its commitment to continuously improving and perfecting the medical and healthcare experience.
About Victory Medical Center - San Antonio
Victory Medical Center San Antonio is made up of a team of bariatric, spinal, and orthopedic surgeons. Founded in 2005 as a subsidiary of Innova Healthcare, Chairman and CEO Robert Helms transferred ownership of Victory Medical Center to Victory Healthcare. The hospital offers medical care in a personalized setting through a two-to-one patient-to-nurse ratio and private inpatient rooms. It also houses four operating rooms, imaging facilities, a pharmacy, and physical therapy services. Doctors at Victory Medical Center - San Antonio include board-certified orthopedic, spinal, and general surgeons.
Located at 4243 E. Southcross Blvd. in San Antonio, TX, Victory Medical Center - San Antonio can be reached at (888) 398-9201. It can also be contacted at innovahealth.net, or http://www.facebook.com/innovahealth.
###