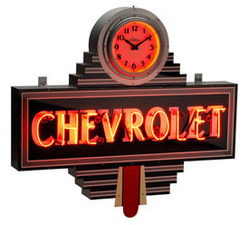 It is one of the most highly sought-after and collectible Chevrolet neon signs ever made
Sterling Heights, MI (PRWEB) December 13, 2007
The General Motors Heritage Center is proud to announce the addition of an exciting limited edition, art deco Chevrolet neon-clock sign to its collection of precision-made scaled reproductions.
"Light the Way to Your Place of Business... The Best Time Money Can Buy" is how the Walker Sign Company described this stunning, very rare, 1930s Chevrolet Neon Dealership Sign in their catalog. It was developed to tie in with Chevrolet's National Outdoor Clock Bulletin Program of that era. The sign featured a built-in Telechron clock and art deco detailing throughout.
"This sign is one of the first Chevrolet designs to take advantage of development of neon for advertising in the early 1930s," states Greg Wallace, curator of the GM Heritage Center. "It is one of the most highly sought-after and collectible Chevrolet neon signs ever made," adds Mr. Wallace. A maximum of 25 will be produced.
Measuring 60 inches wide, the sign is accurately scaled to a size that makes it practical for use in an enthusiast's home, garage, shop or place of business. Built by the same fine American craftsmen that produce the other signs in the GM Heritage Vintage Neon Dealership Sign program, this art deco masterpiece will make an outstanding addition to any collection.
Priced at $6,500 FOB Houston, TX, the Chevrolet Neon-Clock sign will have a serial numbered plaque attached and come with a certificate of authenticity from the GM Heritage Center.
The GM Heritage Center Vintage Neon Dealership Collection now includes eight replicas: one Buick, two Cadillac, two Chevrolet, one GMC Trucks, one Oldsmobile and one Pontiac scaled reproduction. For additional information, or to order any of the collectible neon signs visit the GM Heritage Collection's retail website (http://www.gmphotostore.com) or call toll free 1-800-558-2550.
About the GM Heritage Center: The GM Heritage Center brings together for the first time, almost a century of GM vehicles, historical information and memorabilia. The Center helps GM employees, scholars, analysts and the media research the company's past and learn from its rich history as GM moves toward a second century of operation.
Located in Sterling Heights, Michigan, just north of the GM Technical Center, the GM Heritage Center is not just a museum, but rather a cross between the ultimate automotive enthusiast's garage and a living repository of automotive history.
About the GMPhotoStore: The GMPhotoStore e-commerce web site http://www.gmphotostore.com was established in 2003 to offer automotive enthusiast the opportunity to purchase high quality digital image prints from the GM Media Archive. The web site currently offers over 2,400 images of GM's history of cars, trucks, people and places. Images are available in sizes from the standard 8"x10" to large mural prints 48"x60". In addition, images can be framed or printed on a variety of photo-gifts such as mugs, mouse pads, calendars and holiday ornaments.
About Mall Services Group: Mall Services Group LLC, (MSG) was established in 2001 as marketing services company to manage e-commerce and catalog operations for the licensing groups in major US corporations. Currently MSG manages 3 web sites for various General Motors groups. These sites are http://www.gmphotostore.com , http://www.chevymall.com , and http://www.pontiacmall.com.
MSG also manages the marketing and merchandising for the GM Heritage Center's Vintage Neon Dealership Sign program. MSG is located in Petaluma, CA.
###