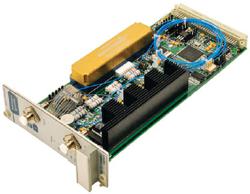 As customers of our previous versions of polarization scramblers have requested, our new PCD-005 features a much wider operating temperature, among other advances, to make it well-suited for more demanding field applications
(PRWEB) May 02, 2011
Chino, CA (PRWEB) May 2, 2011 -- General Photonics, a market leader in polarization control and polarization measurement, today announced the availability of its PCD-005 fiber optic polarization scrambler module that meets customer requests for an expanded temperature range. The new PCD-005 uses advanced digital circuitry to deliver uniform SOP distribution, now over a much wider operation temperature range that makes it more ideal for sensor field applications. It features all-fiber technology to effectively randomize polarization states.
The PCD-005 can be remote controlled via RS-232 to set the operation wavelength or enable/disable the scrambling operation. While retaining dimensions and interfaces identical to those of the PCD-004, the PCD-005 continues to deliver superior performance with extremely low insertion loss, back reflection, and residual phase and amplitude modulation.
"As customers of our previous versions of polarization scramblers have requested, our new PCD-005 features a much wider operating temperature, among other advances, to make it well-suited for more demanding field applications," said Steve Yao, President of General Photonics. "It continues to use all-fiber technology to successfully randomize polarization states. It can be effectively used for eliminating polarization sensitivity in fiber optic sensor, communication, and measurement systems."
Summary of Technical Specifications
The PCD-005 features a low insertion loss of < 0.05 dB. The center operating wavelengths of 980 nm, 1060 nm; 1310 nm; 1480 nm; 1550 nm; and 1600 nm can be set by remote control via RS232. The operating wavelength range for each wavelength setting is > 100 nm. Output degree of polarization (DOP) is < 5% at a 500 Hz detection bandwidth. Complete specifications are available from General Photonics.
Pricing and Availability
The PCD-005 polarization scrambler is available immediately. Interested parties may contact General Photonics direct or a General Photonics channel partner near them for additional details on availability and pricing.
About General Photonics
Founded in 1995, General Photonics is an award-winning world leader in the design and development of advanced optical polarization instruments; timing management instruments, optical modules and optical components. Its products are used worldwide in applications such as fiber optic communications networks; test and measurement applications such as for coherent detection systems; fiber optic sensor systems; medical imaging equipment and other applications. General Photonics, a privately-held company, maintains its headquarters and a manufacturing facility in Chino, Calif. An Engineering Center of Excellence and technical support team is located in Beijing, China. The company also uses a worldwide network of sales distributors and representatives. More information can be found at http://www.generalphotonics.com.
Note: references to corporate, product or other names may be trademarks or registered trademarks of their respective owners.
###