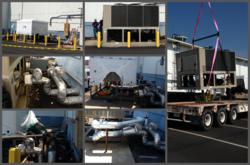 Waldorf, MD (PRWEB) June 11, 2013
Hamilton Pacific Chamberlain was awarded a contract with the Naval Support Facility in Dahlgren, Virginia to furnish the necessary labor, material and equipment to replace the existing chiller with an 80 ton air cooled chiller complete with chill water piping, electrical and DDc controls. Estimated cost $150,000.00.
On June 5, 2013, Hamilton Pacific Chamberlain (HPC), commissioned the new unit and project at the Naval Support Facility located in Dahlgren, VA. Dahlgren is a support facility for the Naval Surface Warfare Center. Dahlgren's Laboratory is a premier research and development center that serves as a specialty site for weapon system integration. Its unique ability to rapidly introduce new technology into complex war-fighting systems is based on our longstanding competencies in Science and Technology, Research and Development, and Test and Evaluation. Providing support for Naval forces, Hamilton Pacific Chamberlain provided a new chiller with associated ducting and engineering. This project was completed over a period of 3 months with zero accidents or mishaps.
Disabled Vets Going the Distance!
About Hamilton Pacific Chamberlain, LLC
Headquarted in Waldorf, MD, Hamilton Pacific Chamberlain, LLC (HPCVET) is a National licensed, bonded and insured General Contractor. HPCVET is a General Contractor for the Federal Government with the following divisions Horizontal Construction Services and General Contracting.
Working in conjunction with the Pavement Network, HPC has the ability to facilitate contracts of diverse magnitudes for the Federal Government as well as large scale private companies nationwide. As a licensed general contractor, we are capable of handling projects nationwide. A Service Disabled Veteran Owned Small Business (SDVOSB), HPCVET has a seasoned staff of Professional Managers, Project Superintendents and Administrators with the average individual time in the industry of more than 20 years.
For more information, please visit Hamilton Pacific Chamberlain, LLC at http://www.hpcvet.com.