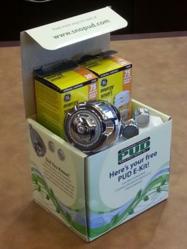 General Pacific, Inc. uses highly professional and advanced resources to source, pack, and ship customized conservation kits
Portland, OR (PRWEB) November 13, 2012
Advertisements or flyers are often inserted into water and electric utility bills offering households free conservation kits. Sometimes you are even given the option to customize the kit depending on individual household needs. Ever wonder how those kits get put together or where they are coming from? General Pacific, located in Fairview, Oregon in the Portland, Oregon metro region, has been providing fulfillment services for conservation kits to utilities in the Pacific Northwest and Energy Trust of Oregon for the past 2 years. This month General Pacific is excited to announce the fulfillment of its 100,000th conservation kit.
Many electric utilities are required to show annual energy savings throughout their service territories to maintain compliance with government energy efficiency programs. These energy savings are measured by kilowatts/hour. By distributing conservation kits to their customers, the utilities work towards reaching these energy saving goals. "The process to source, pack and distribute conservation kits can be complicated and time consuming for utilities. General Pacific, Inc. provides this service for them using highly professional and advanced resources to source, pack, and ship customized conservation kits," says Roch Naleway, manager of Conservation Services at General Pacific.
Conservation kits are typically made up of products that help households conserve water and electricity and save money on utility bills. Kits come in various configurations, but the most common products in a kit include compact florescent light bulbs, faucet aerators, and low flow showerheads.
A common question asked is, does the use of these seemingly insignificant products truly result in any actual energy savings for a household? The use of Compact Fluorescent (CFL) light bulbs can have a significant impact on energy usage. Replacing an incandescent 60 Watt bulb with a 13 watt CFL can lower an electricity bill by up to 75% (based on CFL lamp rated life at 10 cents per KWH). Aerators can reduce the flow of water from a faucet by up to 2 gallons of water per minute depending on the type of aerator you install and they use air to maintain water pressure so comfort is not compromised for efficiency. Low flow showerheads can save up to 1 gallon of water per minute.
It is easy to understand how these products help to conserve water, but how does conserving water help to reduce energy use in a household? Reducing overall water usage will cut down on energy use because of the amount of hot water that will be conserved. A hot water heater can account for 15-25% of energy usage in a home. Over time, the use of low flow showerheads and aerators can significantly reduce the amount of energy use in a household.
According to the American Water Works Association Residential End Uses of Water Study 2009, 32.5% of the average household water use is from faucets and showers combined. Based on this statistic, the use of a low flow shower head and aerators on kitchen and bathroom faucets can have a major impact on how much water a family uses on a daily basis.
The distribution of 100,000 conservation kits to households throughout Oregon and Washington has played a significant and important role towards reaching energy saving goals in the Pacific Northwest. Saving a little bit of water and electricity each time a faucet, shower or lights are turned on can have a big impact. General Pacific is proud to have contributed to this process towards greater energy efficiency and looks forward to filling orders for another 100,000 kits.
Kevin Watier, program manager with Snohomish Public Utility District (PUD) in Washington, recalls his experience with General Pacific, "The GenPac team has been great to work with. From the start GenPac put together a mix of products that suited our needs and responded quickly to requests from particular orders, bulk deliveries, or adding a New E-Kit. The team effort between Snohomish County PUD and General Pacific will meet our goal of 20,000 E-Kits in 2012."
About General Pacific, Inc.
General Pacific, GenPac, is one of the leading wholesale stocking distributors in the Northwest region of the United States. Serving the Electrical Utility, Water Utility and Contractor markets since 1965 has helped General Pacific build long lasting relationships with our customers by providing them with quality products and value added services.