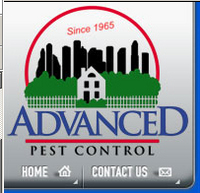 Becoming Quality Pro was important to us
Houston, TX (PRWEB) September 9, 2008
Advanced Pest Control, the Houston based pest control and animal removal company, is happy to announce their recent Quality Pro designation for their general pest control services. The special designation, awarded by the National Pest Management Association, is a mark of excellence in the pest management industry, and rewards the extraordinary steps that Advanced Pest Control has taken to ensure their customers' satisfaction.
From running criminal background checks on all of their employees to using environmentally sound integrated pest management practices, Quality Pro companies, like Advanced Pest Control, are committed to providing customers with the highest possible services. In order to receive this designation, Advanced Pest Control, Houston has met qualifications built around four key principles: business operations, consumer relations, environmental stewardship and technician training.
"Becoming Quality Pro was important to us," says Richard Weisman, President of Advanced Pest Control. "We strive to offer consumers the best in pest management, and this designation is a reward for our efforts."
The Quality Pro general pest control qualifications also include employing only highly trained, credentialed employees, offering a clear, easy-to-understand warranty and termite service agreement, maintaining a drug-free workplace, advertising truthfully and ethically, and maintaining an up-to-date insurance policy.
"Quality Pro is the mark of excellence in pest management," says Weisman. "This designation offers consumers solid proof of the thoroughness and quality of Advanced Pest Management's services."
Advanced Pest Control's services include insect control, bird control, rodent control, termite control, wildlife trapping and animal removal, and a slew of other services like bat control, mosquito control, snake control, and even bird control. Advanced Pest Control's Lawns, Shrubs and Trees Service assists area homes in maintaining their landscape's health in the long run, and Advanced Pest Control even offers Landscape Lighting Services.
Most importantly, however, Advanced Pest Control, Houston is committed to providing a superior service that includes protection of customers' property, family, and pets with effective and environmentally friendly pest control. Advanced Pest Control is recognized by the National Pest Management Association, Bat Conservation International, and the Better Business Bureau of Greater Houston, and the family owned and operated business hopes to demonstrate their worth to as many Houston-area families as possible.
For more information on Advanced Pest Control or the Quality Pro designation, visit AdvancedPest.com.
About Advanced Pest Control:
From bats in the belfry to snakes in the grace, Advanced Pest Control Service Professionals have been solving pest control problems for customers since 1965. Advanced Pest Control is one of the largest family-owned and operated pest control companies in the Houston area and is backed by staffed biologists and entomologists as well as experts from leading universities. For a free evaluation, visit AdvancedPest.com.
###