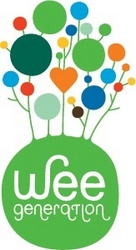 We were absolutely astounded and thrilled to be honored with this gift
BURLINGTON, Vt. (PRWEB) August 7, 2008
"We were absolutely astounded and thrilled to be honored with this gift," said Cynthia Norris. "My husband Keith and I learned of McKenna's cyst while I was pregnant. As a result, we've been trying to create a green home and nursery on our own and find this gift to be incredibly lucky and timely."
Wee Generation's green baby nursery tips for any family include:
Use organic or natural mattresses, bedding and linens free of treatments that can expose infants to chemicals and other unhealthy compounds. Start cleaning house the safe way—with biodegradable cleaners made from natural and non-toxic ingredients. Natural cleaners won't fill your home with chemical fumes or coat its surfaces with unhealthy residues. Dust with a damp cloth. Dust mites are one of the main allergens and contributors to respiratory-related illnesses so decrease them easily and effectively. Select air purifiers that don't generate UV light and that don't require filter replacement. Keep windows open for fresh air whenever possible. Use real plants when possible. The following plants, among many others, also help absorb air pollutants and contribute to a "green" nursery: Boston Fern, Weeping Fig Ficus, Rubber Plant, Gerbera Daisy, Areca or Bamboo Palm, Dragon or Rainbow Tree, Lady or Parlor Palm and a Moth Orchid. Conventional carpets are full of toxic chemicals and can harbor dust mites. Keep carpets and rugs vacuumed and consider treating with a VOC-free adhesive and/or sealant to reduce off-gassing. When selecting paint, choose a VOC-free or low-VOC option. When selecting lighting, consider full-spectrum light bulbs and compact fluorescents. When possible, choose organic clothing options for baby. Also select wood and cloth toys over plastic or vinyl. If bottle-feeding, opt for BPA-free plastic or glass bottles or training cups. There are also BPA-free containers for food. BPA is bisphenol-a, a hormone-disrupting chemical found in many conventional plastics found in bottles and toys. The greenovation included extensive consultations with K.L. Hassen of Organic Home LLC and incorporated Healthy Child Healthy World's five easy steps for creating a healthy home for family. Find these steps and more at http://healthychild.org/5steps/.
Not only did the Norris family win a $5,000 "greenovation" of their nursery, but they also won the opportunity to "pay-it-forward" so that a local children's organization could benefit from a similar "green" makeover. They chose Massachusetts-based Horizons for Homeless Children, a non-profit organization dedicated to improving the lives of homeless children and their families. Through the donation to Horizons for Homeless Children Wee Generation is able to promote the importance of children's environmental health at both the family and community level.
"We are excited that Wee Generation can provide the Norris family and Horizons for Homeless Children the knowledge and tools they need to consciously prepare healthy space for little ones," said Christopher Gavigan, CEO and Executive Director of Healthy Child Healthy World. "Creating a healthy, living environment is the best gift any parent or caregiver can give children."
In addition to the greenovations awarded as a result of the sweepstakes facilitated by SoftCoin®, Wee Generation created the Wee Generation Eco-friendly Diaper Bag, part of which is manufactured from post-consumer plastic bottles and is Cradle-to-Cradle certifiable. It is available at http://www.weegeneration.com. All profits will benefit Healthy Child Healthy World (HCHW), the nation's leading children's environmental health and eco-advocacy nonprofit.
About the Wee Generation Collaboration
Wee Generation advocates for a healthier environment for children by focusing on the "living home" and a transformation of ecosystem-impacting consumer products. Wee Generation was formed in partnership with Seventh Generation – the nation's premier provider of non-toxic and environmentally-friendly home cleaning, personal care and baby products; William McDonough – the acclaimed green architect and visionary; IDEO – one of the world's most innovative design firms; Healthy Child Healthy World – the country's primary children's environmental health eco-advocacy non-profit and Rickshaw Bagworks – a leading manufacturer and designer of sustainable urban bags.
About Seventh Generation
Seventh Generation is committed to being the most trusted brand of household and personal-care products for your living home. Our products are healthy and safe for the air, the surfaces, the fabrics, the pets, and the people within your home — and for the community and environment outside of it. Seventh Generation also offers products for baby that are safe for your children and the planet. From chlorine free diapers and wipes to specially formulated Baby Laundry Detergent, Seventh Generation provides you with baby products you can trust. For information on Seventh Generation cleaning, paper, baby and feminine personal care products and to find store locations, visit http://www.seventhgeneration.com.
About Horizons for Homeless Children
Founded in 1988 as an independent, non-profit organization, Horizons for Homeless Children is dedicated to serving homeless children and their families. Headquartered in Roxbury, the organization has created over 145 Playspaces (educational and recreational spaces) in family shelters throughout Massachusetts and since inception has recruited and trained more than 9,500 community members to become volunteer Playspace Activity Leaders working with the children living in the shelters. Horizons for Homeless Children's three Community Children's Centers provide childcare and early education for 175 homeless children and their families each weekday. The agency provides leadership in advocating for homeless children and their families through leveraging and sharing its expertise with others and advocating with policy makers and the public.
For more information about Wee Generation beneficiary Horizons for Homeless Children, visit http://www.horizonsforhomelesschildren.org
For more information about Healthy Child Healthy World, visit http://www.healthychild.org
For more information about William McDonough visit http://www.mcdonough.com
For more information about IDEO, visit http://www.ideo.com
For more information about Rickshaw Bagworks, visit http://www.rickshawbags.com
For more information about Organic Home LLC, visit http://www.organichomedesign.com