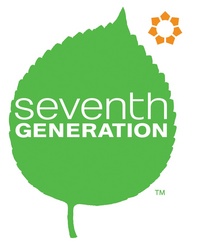 This ranking tells us several important things
BURLINGTON, Vt. (PRWEB) August 1, 2008
The new ranking is based on research conducted among "Generation Y" consumers, who were asked to name those companies they considered "green" and explain the reasons for their selections. According to the study, Seventh Generation is seen as a trailblazer in the cleaning products category. Researchers say such a reputation makes it likely that the company will remain on consumers' minds and earn lasting respect over the long term.
"This ranking tells us several important things," said Seventh Generation CEO and Inspired Protagonist Jeffrey Hollender. "First, it says that our years of work pioneering the green household and personal care products category have paid off in the form of a leadership position that's important to shoppers. Our brand clearly has a unique kind of added value and authenticity that's very hard to come by. It also says that even after 20 years, we've been successful in demonstrating that we're not resting on our laurels and that our history of innovation is still active.
"But what's most positive about this new research is that it shows that young people are in tune with values of sustainability, that those issues matter to the people who are the consumers of the future. It's one thing for our company to rate highly in a study conducted among affluent mothers or hard core environmental activists, but something else entirely to come out on top with people who are just starting out in life and haven't yet acquired the wealth or knowledge that's so prevalent in our traditional consumers. It's wonderful that our message has penetrated so deeply and so broadly, and that corporate consciousness is no longer seen as a fringe concern."
Joining Seventh Generation in Outlaw's Green Brands Index are such heavyweights as Whole Foods, Google, Toyota, Ikea, Starbucks, Aveda, and American Apparel. For the complete list and to learn more about the research visit the Outlaw Newsletter.
About Seventh Generation
Seventh Generation is committed to being the most trusted brand of household and personal-care products for your living home. Our products are healthy and safe for the air, the surfaces, the fabrics, the pets, and the people within your home — and for the community and environment outside of it.
For information on Seventh Generation cleaning, paper, baby and feminine personal care products, to find store locations, and explore the company's website visit http://www.seventhgeneration.com. To read more about Seventh Generation's corporate responsibility, visit the Corporate Consciousness Report.