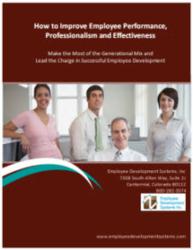 For some generations, goals are accomplished through hard work. For others, they are reached by effectively maximizing the power of technology and connections with others. Lead the industry by taking advantage of these generational differences.
Centennial, CO (PRWEB) October 10, 2011
Successful employee development across the generations is one of the main challenges that both growing –and struggling companies face today. Employee Development Systems Inc. is providing complimentary resources to help leaders navigate the communication challenges in their workplace and help their employees focus on productivity; support employees in their own professional development path; and give organizations the programs and products they need to realize the benefits of a robust, effective workforce.
Employee Development Systems, Inc. has distilled down the most relevant and pressing generational and training issues for leaders to address and shows how they can be resolved and even work as a catalyst for learning, professional development and ultimately, a more productive workforce
Here are some of the "front line" tactics that are being used in successful multi-generational workplaces. They can be implemented quickly, making an equally fast shift in the office climate and the ability of all generations in the organization to focus on their work, versus communication barriers, work habit differences or other frustrations.

Offer mentoring programs that are toggled to training programs.
Keep employees engaged.
Open up the office –rearrange the traditional cube structure.
Create recognition programs.
Focus on the meaning and purpose of the work, every day.
Leverage the unique skills of each employee.
Talk about and clarify appropriate communication methods for your organization.
Limit meetings and introduce one-on-one coaching sessions.
Set a high bar for professionalism.
Here are more tactics, from a leadership and organizational perspective:
Use "layered" technology tools, to ensure that all generations are able to learn at their optimum performance level.
Recognize the importance of organizational culture and effectively conveying it to all employees
Clarify and prioritize professionalism and what it means in the context of your organization.
Ensure that all employee growth is rooted in the Core Competency Dimensions.
Understand and utilize effective performance management.
Utilize a well-respected workplace assessment tool in order to help employees understand themselves and their own motivators, as well as those of their colleagues.
To find expanded information on the tactics mentioned here and learn even more practical tools, read the complimentary white paper offered by Employee Development Systems, Inc.This guide has distilled down the generational and training issues that are most important for leaders to address.
"How to Improve Employee Performance, Professionalism and Effectiveness: Make the Most of the Generational Mix and Lead the Charge in Successful Employee Development"
Employee Development Systems, Inc. invites the learning and development community, to follow our leadership twitter feed, Workplace Professionalism Blog and monthly ideacasts.
About Employee Development Systems, Inc.
Employee Development Systems, Inc. is a Colorado-based professional development firm that was founded in 1979 and offers employee development, management development, leadership and professionalism courses and accompanying behavioral style assessments, surveys and other tools. Employee Development Systems, Inc. provides services worldwide to Fortune 500 clients as well as small to medium-sized businesses.
The organization's mission is to enhance the interpersonal skills needed to perform at a more productive level, to develop a workforce that adapts to change, and is creative and innovative and to make the client organization the employer of choice. This is accomplished through establishing trust, building relationships and fostering behavioral change. Employee Development Systems, Inc. training and development initiatives address employee engagement, multiple generations in the workplace and the ramifications of social media and collaboration.
###