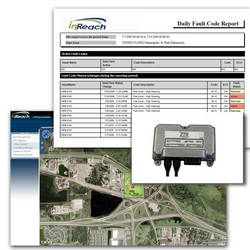 With the new InReach eGate technology, any generator out of the yard is automatically added to my daily fleet report. And I get an automatic summary when it returns.
Minneapolis, MN (PRWEB) May 7, 2010
ZTR Control Systems announces a new remote tracking & monitoring solution for municipalities. Cities, counties and municipalities often maintain a fleet of mobile generators for everyday portable power needs and for emergency preparedness. Keeping the generators ready to run at a moment's notice is a tough challenge. The equipment is often stored at several remote locations and may sit idle for months at a time. Dead batteries, low fuel, and other weather related degradation can severely reduce the readiness of the generators. When an emergency strikes, such as a hurricane or tornado, it's even more difficult to track & maintain the generators once deployed.
The InReach™ remote generator tracking solution automatically tracks deployed generators and reports on usage & alerts. New InReach eGate technology automatically tracks the run activity from the time the equipment leaves the storage yard until the time it returns.
A daily report is emailed to the municipal operations staff summarizing activity for the previous day. Alarms are aggregated on the daily report so staff can get a bird's eye view of everything that happened the day before and schedule maintenance as needed. They also receive immediate alarm notification on the parameters that are critical to generator operation.
Fleet location is tracked real-time using GPS. The InReach web center allows operators to map the entire fleet while drilling down to get details of a specific piece of equipment. An email summary of run hours and fuel usage is automatically sent to the staff when the generator returns.
About ZTR:
For over 20 years, ZTR has been providing reliable monitoring and control solutions to a variety of rugged equipment industries. http://www.ztr.com
# # #